The infrastructural works on the regeneration of Mellieħa square are progressing at a good pace.
This project, with an investment of €2 million, is financed by the Malta Tourism and Infrastructure Malta Authority.
Currently, works are being carried out on water services and new drainage in the surrounding area.
While interventions related to new culverts for lighting services are expected to be finalized in the coming months.
After these works, the project begins to approach its final phase when the new paving of the same square begins to be laid.
These details were announced during a visit made to this area by the Minister for Tourism Clayton Bartolo and the Minister for Transport, Infrastructure and Capital Projects Aaron Farrugia, together with representatives of the Maltese Authority for the
Tourism and Infrastructure Malta.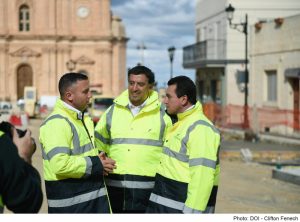 Minister Bartolo pointed out how this project is a clear statement that the government through the Malta Tourism Authority is strengthening its commitment to continue improving the local tourist product.
"Improving the tourist infrastructure is a priority for Malta to continue strengthening its profile in the tourist world.
The fact of having centers of traditional tourist localities with a better appearance than before continues to improve the holistic experience of tourists who come to visit the Maltese Islands throughout the year," stressed Minister Bartolo.
Minister Aaron Farrugia said that Infrastructure Malta's work in this area is a practical example of what they mean by the phrase "infrastructure for the people".
"A project that gives priority to those who frequent this area daily on foot, whether residents or tourists.
For us it is also important to not only increase accessibility but to green this area in the heart of the Melliħija community while making sure that the material we are using to do the work is one that respects the historical heritage of
' this square," stated Minister Farrugia.