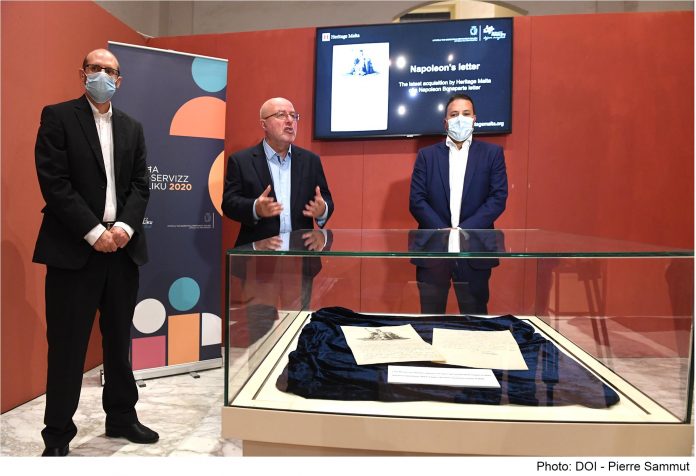 The letter in which Napoleon Bonaparte commanded General Desaix to start planning the invasion of Malta in 1798 raised great interest in the Maltese public on its first day exhibited at the Museum of Archaeology, as part of Public Service Week 2020.
Heritage Malta acquired this unique artefact last July for the sum of €60,000, in an auction organised by Sotheby's. The letter is being exhibited in public for the first time on the occasion of this year's Public Service Week and will remain on display until the end of this week.
Various other objects of interest linked to the French period in Malta are on display alongside it, amongst them: a French musket issued to Maltese troops in the 1790s; a French military button dating to 1792-93; a copy of the Lexicon published by Mikiel Anton Vassalli in 1791; and a Maltese sabre of the type which may have been used to kill a French knight suspected of collaborating with the French when Desaix's ships were landing troops in the south of Malta.
Furthermore, also as part of Public Service Week, today Heritage Malta opened Valletta museums free of charge. Despite the restrictions imposed by Covid-19, a large number of people visited these museums, always in strict compliance with the regulations issued by the health authorities. Attendance at Heritage Malta's sites and museums in general is very encouraging, particularly after the introduction of the passport scheme for students and senior citizens, which saw an increase in Maltese attendance of around 80,000 people.
Speaking at the Museum of Archaeology, Principal Permanent Secretary Mario Cutajar explained the extensive restoration work which has been going on at this museum and which was strongly boosted in the months during which the museum was closed to the public due to Covid-19. This work includes the replacement of the Gran Salon roof and the restoration of all facades of the museum's internal courtyard. Historical research and surveys are also being carried out in various parts of the building, in order to better understand the long and rich history of the Auberge de Provence, which houses the Museum of Archaeology in the heart of Valletta.
Mr Cutajar said that all this work is being carried out within the framework of Heritage Malta's vision for the sites and museums of our capital city, in order to offer visitors a holistic and unique experience.
Mr Cutajar also visited the reserve collection at the National Museum of Art MUŻA, also in Valletta. He was able to appreciate the strong investment which went into making this collection visible to those who wish to visit it, either out of sheer interest or for the purpose of research.
This year's Public Service Week runs until Friday 25th September.