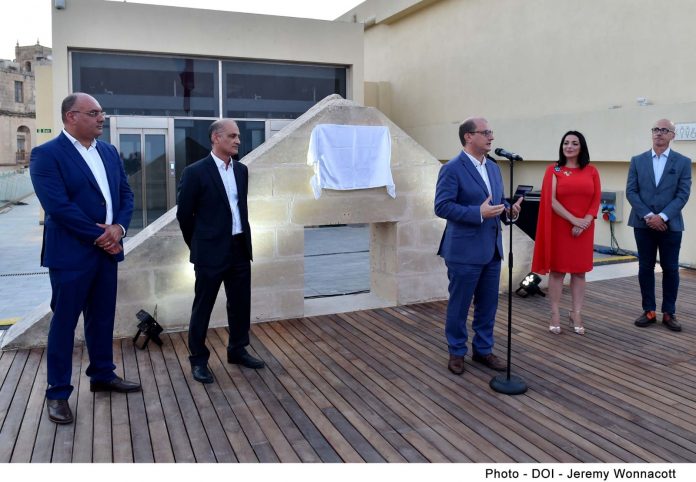 The roof of the Mediterranean Conference Center in Valletta was inaugurated on Saturday 8 August by the Minister for Tourism and Consumer Protection Julia Farrugia Portelli and the Parliamentary Secretary for European Funds Stefan Zrinzo Azzopardi.
This roof consists of an area of ​​1,100 square meters and cost € 2.5 million and is part of a total investment of € 8 million initiated by the Ministry of Tourism and co-financed by European Union funds during these years. last five years. In addition to landscaping and roof renovation work, this investment also covers the virtual museum that was launched a few weeks ago, the installation of new AC units and new technologies in the field of conferences in the building. of Dar il-Mediterran among others.
The virtual museum Re-Living the Sacra Infermeria which was inaugurated a few weeks ago together with the Prime Minister Robert Abela is the first of its kind in our country where through the use of augmented reality technology it offers an experience. unique of 18 scenes related to the history of our country. This roof is also part of this museum as two scenes are located here along with a 360 panorama with a guide explaining virtually historical sites that are appearing in the scene.
Minister Julia Farrugia Portelli expressed satisfaction for this investment as this roof can not only be enjoyed by Maltese and tourists visiting the virtual museum but can also be used for conferences and other activities. He pointed out that in 2019 alone about 167,000 visitors visited Dar il-Mediterran where 15,000 of them were for conferences. "Earlier this year I visited the Samsung Conference which was held in this building and which was held for the first time in our country with the attendance of 3,000 people," said the minister. Minister Farrugia Portelli mentioned that this roof can now be used for a number of conferences and for private functions and stressed how this bodes well for our tourist product with added value through unique scenarios of the Grand Harbor. .
Parliamentary Secretary Stefan Zrinzo Azzopardi said that this project in the Mediterranean Conference Center is being carried out through an investment of € 8 million with € 4.2 million of them European funds. He added that this project is offering one of the most beautiful belvedere in the capital and complements two other projects funded by European funds, which are the restoration of the upper part of St. Elmo and the project of Marsamxett regeneration, which together are strengthening investment in the southern part of the Maltese capital. Stefan Zrinzo Azzopardi concluded by saying that through European funds an investment has been made to continue to preserve and build on the historical heritage of our country so as to strengthen the Maltese tourist product and have more wealth that promotes the beauty of our country.
For his part, Mr Pierre Fenech, Chief Executive of Dar il-Mediterran, said that this is an important project for the tourism industry especially when it comes to the meetings, events, conferences and of incentives. "This is very important because we will be offering a unique product with a place where you can hold an outdoor event with additional indoor space," concluded Mr Fenech.
Mr Kenneth Spiteri, Chairman of Dar il-Mediterran, thanked all those who in one way or another were involved in making this project possible.
Also present was the Mayor of Valletta, Alfred Zammit.