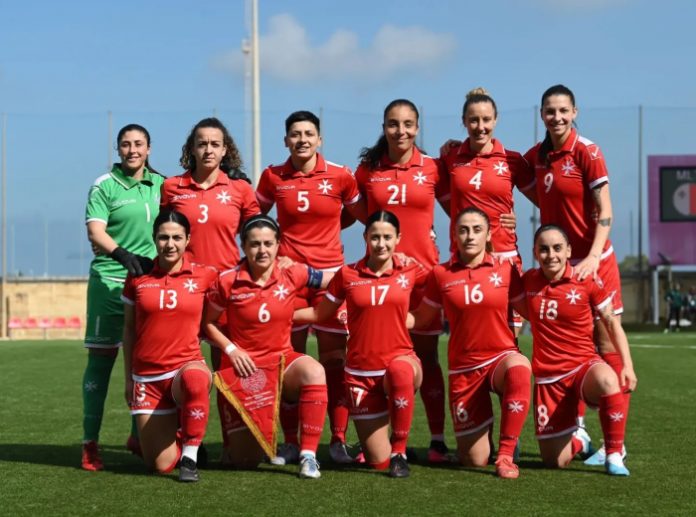 Malta Women clinched a second win over Luxembourg with a 3-1 win at the Centenary Stadium on Monday morning.
The Malta Women's National Team defeated Luxembourg 3-1 in a second friendly match on Monday morning to make it two wins in a row.
The hosts put on a strong display and were the better side throughout the game.
Coach Tesse made three changes to the starting line-up opting for veteran Dorianne Theuma, Charlene Zammit, and Kailey Willis to replace Jade Flask, Shona Zammit, and Nicole Sciberras.
The hosts got off to a commendable start and scored in the 3rd minute. Kailey Willis of Chievo Verona took the ball from a free kick and fired a powerful shot that easily beat the Luxembourg goalkeeper Lucie Schlime.
Willis scored her brace shortly after when she took advantage of a defensive blunder and drove home nine minutes after breaking the deadlock.
In the 26th minute seasoned player, Dorianne Theuma had a powerful diagonal shot go slightly off target.
The visitors were able to narrow the deficit in the 28th minute when Amy Thompson capitalized on the goalkeeper's error and scored.
A minute later, Orlando's Haley Bugeja failed to connect with a diagonal shot. Bugeja had another chance saved by Topler into a corner ten minutes later. Half-time score 2-1.
The home team started the second half in a vibrant manner as Anne Marie Said crossed a perfectly timed ball and Jade Flask pounced in to head the ball past the opposing keeper.
In the 75th minute Maria Farrugia's freekick was denied by Luxembourg Goalkeeper CelineTopler. In Injury time Malta was given a penalty for a handball inside the 18-yard box, yet Ylenia Carabott was unlucky to see her powerful drive hitting the crossbar.
The end result resulted in jubilation for the girls who will surely build on these multiple solid performances and ahead of Estonia friendlies in April.
Malta: Janice Xuereb, Ann Marie Said, Emma Lipman, Stephania Farrugia, Dorianne Theuma, Kailey Willis, Maria Farrugia, Charlene Zammit, Brenda Borg, Emma Xuereb, Nicole Sciberras, Haley Bugeja.
Coach: Manuela Tesse.
Luxembourg: Celine Topler, Kimberley Dos Santos, Ana Barbosa, Andreia Machado, Yana Lentz, Charlotte Schmit, Laura Miller, Catarina Lavinas, Caroline Jorge, Marta Estevez, Amy Thompson.
Coach: Daniel Santos.
Referee: Martina Molinaro (Italy).
Photos: Mark Zammit Cordina/MFA.