Voluntary organisations have the opportunity to apply for a scheme issued by the Sustainable Development Directorate and the Malta Council for the Voluntary Sector. This scheme includes an investment of €50,000 in order to assist organisations to implement tangible projects or initiatives related to the promotion of sustainable development.
This was announced during the European Sustainable Development Week by Minister for the Environment, Energy and Enterprise, Miriam Dalli together with Minister for Inclusion, Voluntary Organisations and Consumer Rights Julia Farrugia Portelli.
Minister Miriam Dalli explained that the main objective of this fund is to assist voluntary organisations improve their capacity and skills, while allowing them to develop community projects that promote sustainability in different areas and engage in initiatives that lead to a fairer and more equal society, a clean environment, and a healthy economy.
"The vision for our country is that of a sustainable future that can be achieved if everyone works together. Voluntary organisations are an integral part of the transition towards a more inclusive and environmentally healthy society. Therefore, we are launching this fund so that this crucial work continues and keeps moving forward", stated Minister Miriam Dalli.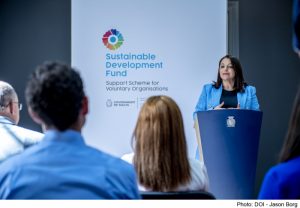 Minister Julia Farrugia Portelli emphasised the importance of building a more sustainable voluntary sector by creating various projects and initiatives that will overall strengthen the three main pillars of our country—the social sector, the environment, and the economy. In her speech she remarked that "we want to see more projects that are making a difference in people's lives, projects that are done in the most sustainable way, so that both todays and future generations can benefit from them".
Voluntary organisations which are registered with the Office of the Commissioner for Voluntary Organisations are encouraged to submit project proposals which can be implemented in the coming months. The best proposals will benefit from funding of 80% of the project costs up to a maximum of €10,000.
Present for the launch of this scheme were the Director of the Sustainable Development Directorate George Said, the Chief Executive Officer of the Malta Council for the Voluntary Sector, Mauro Pace Parascandalo, and the Head of the Office of the Commissioner for Voluntary Organisations' Programmes and Policy Implementation Unit, Raiza Borg Carr.
Applications are open until Friday 28 October 2022. The application and guidelines can be found on http://vofunding.org.mt/funds/114.