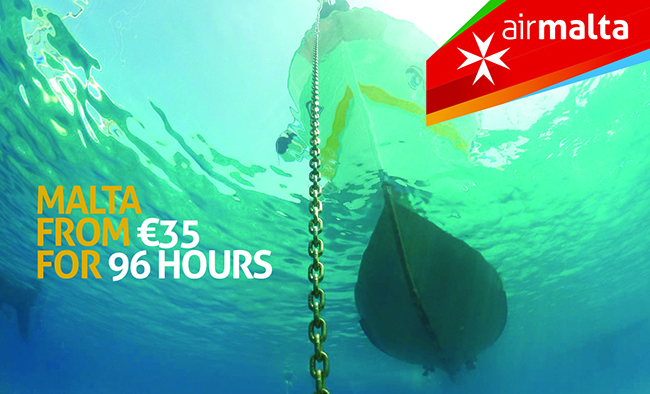 Air Malta is launching a limited period promotional sale on all flights starting from as low as Euro 35 one-way, inclusive of taxes and charges.
20 destinations are being discounted for travel between 7th November 2016 and 30th June2017.
The sale is open for just 96hours starting on Thursday 3rd November at 12:00pm till Monday,
7 November at 11:59am.
Tickets can be purchased from the airline's website www.airmalta.com, call centre on +356 21662211 and the airline's sales office at Malta International Airport.
The airline's promotion is available on flights to/from Amsterdam, Berlin, Brussels, Catania, Düsseldorf, Frankfurt, London(Heathrow and Gatwick), Lyon, Manchester, Marseille, Milan, Moscow, Munich, Paris, Prague, Rome, Palermo, Vienna and Zurich.
Seats are subject to availability.
Terms and conditions may apply. For more information visitwww.airmalta.com, or log onto
www.facebook.com/AirMalta.
Air Malta operates a conveniently timed flight schedule to/from main city airports, offering easy access and connections with a reliable flight schedule. Together with partner airlines, Air Malta offers a network of over 100 destinations. The Maltese airline maintains its commitment to offer value for money prices and superior service in both its economy as well as business class cabins.
The airline also offers customers free allowance of one 10kg hand luggage and a one piece 20kgs free baggage allowance even on its lowest 'Simply Fly' fare.
Business Class passengers are given an allowance of two pieces of hand luggage for a total weight of 15kgs and up to two pieces of hold baggage allowance (maximum 64kgs) for its 'Business Anytime' customers.