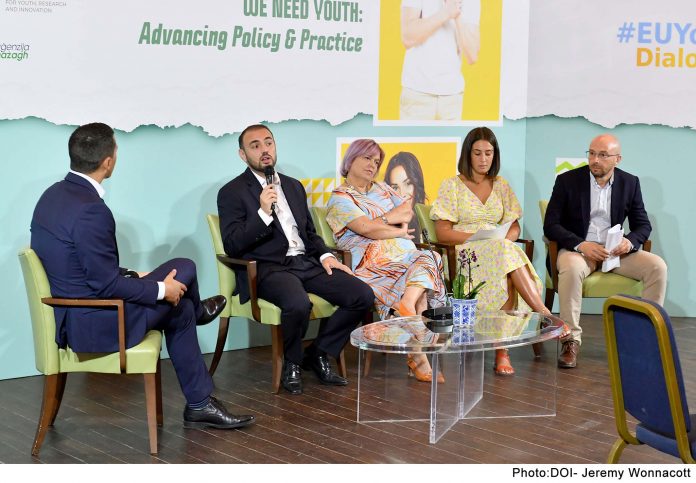 'We need youth: Advancing Policy and Practice', a conference organised by Aġenzija Żgħażagħ
Aġenzija Żgħażagħ organised a conference entitled 'We need youth: Advancing Policy and Practice' for stakeholders who work with youths with the aim of identifying more positive practices that can be taken for the benefit of youths. This conference, which was attended by several stakeholders from public and private associations and organisations, included a discussion with a panel of experts, as well as workshops.
The Parliamentary Secretary for Youth, Research and Innovation Keith Azzopardi Tanti was one of the main speakers in the panel discussion, where he mentioned the work being done by the government in the youth sector. "Young people are the foundation on which we want to build our country. We have shown with facts how much the Government cares for young people, with several initiatives that have been launched including the Vote-16 as well as the Youth Advisory Forum led by the Prime Minister himself," said Parliamentary Secretary Azzopardi Tanti.
He explained how the National Youth Policy 2030 gives a clear vision of what is being done and will be done for young people in our country, with several proposals that will be implemented in the coming months and years.
"Today we have gathered all the stakeholders to give their perspective on what is being done and what can be done or improved for youths' benefit. The aim of this conference is to look after the well being of youths and to give them the necessary platform to be able to express themselves in the best possible way. With joint effort we create more opportunities for our youths," concluded the Parliamentary Secretary.
The Director of Aġenzija Żgħażagħ Jason Zammit also spoke and said that thanks to this annual conference they can listen to what the stakeholders who work directly with youths have to say. "The Agency always protects the primary interest of young people in every sphere of society. This conference brings together several people who come from different backgrounds, with the only factor that unites them being the youth themselves. With your participation, the stakeholders, we can continue to convey the voice of young people and continue to give them the importance they deserve," stated Mr Zammit.