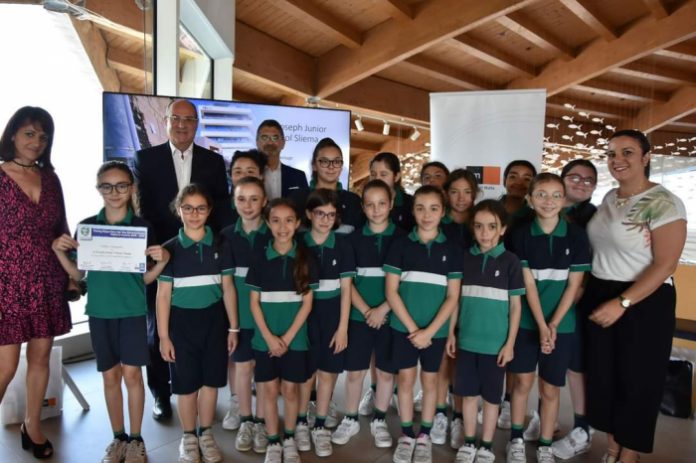 Over 250 young aspiring journalists from 28 different schools participated in this year's Young Reporters for the Environment programme, which is supported by HSBC Malta.
This international initiative, led by the Foundation for Environmental Education, promotes environmental awareness and responsibility among young Maltese students.
These young reporters have been given a platform to voice their concerns about
environmental issues such as litter, construction, and pollution. They have shown a
discerning approach to policy-level decisions while proposing practical, sustainable
alternatives through their articles, videos, and photographs.
The efforts of these young reporters culminated in an awards ceremony held at The National Aquarium. Following a short message from Ms Gosia Luszczek, YRE's international coordinator, Malta's national coordinator Ms Audrey Gauci gave a quick run through of programme's achievements and challenges over the past year.
The winners in each of the categories where then presented with their awards by Michel Cordina, HSBC Malta Executive Director & Head of Business Development and Vincent Attard, Executive President at Nature Trust Malta.
Four of the seven entries submitted for the international competition made it to the shortlist, demonstrating the international relevance of Malta's youth perspectives on sustainability. The international winners will be announced in July.
HSBC Malta's support for the YRE initiative aligns with its ethos of giving back to the community and fostering environmental responsibility as outlined in the United Nations Sustainable Development Goals.
The bank is committed to the long-term development of Malta's younger generation and their environmental consciousness. This partnership with YRE forms a crucial part of HSBC's mission to drive sustainable development and foster a greener future for the nation.
HSBC Malta's Manager for Corporate Social Responsibility, Glenn Bugeja, had the following to say:"It's inspiring to witness our young generation demonstrating such a keen interest and initiative towards environmental conservation. At HSBC, we believe in fostering this spirit and are proud to support a programme that equips them with the tools and a platform to contribute to global sustainability discussions".
HSBC Malta, in line with its ongoing commitment to the programme, provided sponsored gift bags for all participating students, symbolizing the bank's recognition of each participant's efforts and its broader commitment to sustainable development.