Bidni Extra Virgin Olive Oil has won the Platinum Award at the renowned London
International Olive Oil Competition, setting a new benchmark for Maltese olive oil on the international stage.
The Bidni olive, a variety endemic to Malta and virtually unknown to the world until
two decades ago, was revived through the dedicated efforts of Sammy Cremona and later by the Grima family.
The Bidni olive tree is an early harvest variety, which property naturally protects the olive fruit against fruit fly infestations. The olives, small and concave with a deep purple colour when ripe, yield a distinctive oil with a noticeably peppery taste, owing to the fruit's high level of polyphenols. The olives are cold-pressed within less than 24 hours of harvest, producing an extra virgin olive oil with an oleic acid percentage considerably lower than standard extra virgin olive oils.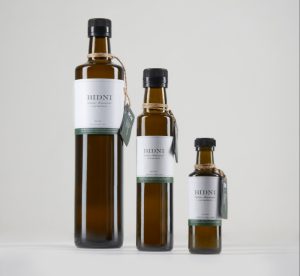 Today, the Grima family cultivates around 600 Bidni trees, producing approximately 500 litres of this extra virgin olive oil annually.
The London International Olive Oil Competition is one of the largest and most
prestigious olive oil competitions in Europe, making this win a significant achievement for both the Grima family and MCA. As an accolade that sees hundreds if not thousands of competitors annually, the Platinum Award recognises the outstanding quality and distinctiveness of the Bidni Extra Virgin Olive Oil.
"It is of great honour to see the fruit of our work participate at this international event and receive such a prestigious award" says Immanuel Grima, who together with his father Joe cultivates the Bidni olive trees. While we anticipate an increase in production as our trees mature, our focus will remain on quality and the nurturing of this endemic variety".
"This award is a great honour and a confirmation of Malta's potential in producing high-quality gastronomic products", says Kurt Mifsud, founder of the MCA, which
collaborates with the Grima family by managing the Bidni. "Our main aim is to maintain this high-quality level and continue to introduce people to this unique most likely endemic variety through our events and collaborations. In the coming years, we intend to participate in more competitions and we will continue to promote local products and varieties".