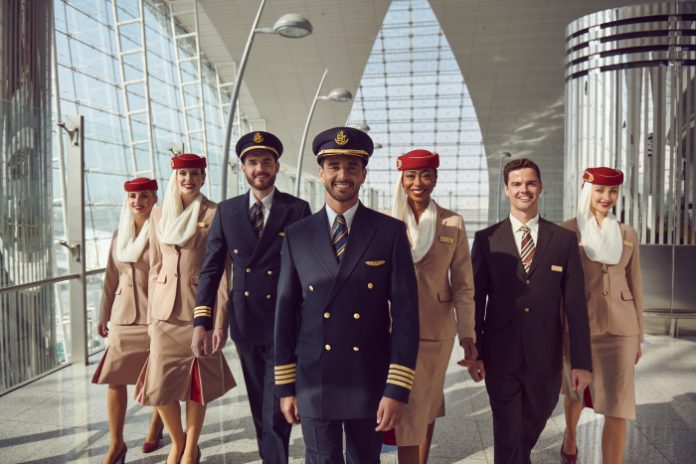 Airline pilots connect people with places and help create treasured memories – whether it's an unforgettable holiday, a rock concert, a friend's wedding, or a mother's warm hug.
On the occasion of World Pilots' Day, that was celebrated on April 26, Emirates saluted its highly skilled aviators for their contributions to global travel and the airline's business, while continuing to recruit First Officers and seasoned Captains.
When Emirates launched its services in 1985, the airline's pilots then were part of the two wet-leased aircraft from Pakistan International Airlines. Fast forward to today and the airline boasts almost 4,000 pilots from 111 nationalities, of which 400 are proud Emirati nationals. The first Emirati cadet pilot joined in 1986 and retired as Captain after a fruitful career of 20 years.
Many pilots have grown with the airline. Inspiringly, Emirates has 1,380 pilots who have been working at the airline for 10-19 years, 173 who've served for between 20-29 years, and 5 who have completed 30 years. Emirates' two longest serving pilots, with over 34 years of service, joined the airline on the same day in 1989.
As travel demand surges, the airline strengthens its network and prepares to take delivery of its Airbus A350s from mid-2024, Emirates continues to grow its pilot community with upcoming recruitment drives. Since the start of 2022, the airline has welcomed over 900 new pilots on its three recruitment programmes –
Pilot journeys
With Emirates' continuous investments, its pilots fly one of the world's youngest and most modern fleet of 260 all wide-body aircraft of Airbus A380s and Boeing 777s. The airline's pilots fly to six continents and 140 diverse destinations – from San Francisco to Auckland – and across all terrains – over glaciers, deserts, forests, canyons, marshes and mountains, even the North Pole.
Emirates has always been at the cutting-edge of pilot training with a facility that currently houses 10 full-flight simulators for A380s and 777s. Emirates invests in robust, evidence-based training programmes in-house with highly experienced instructors in specially designed environments. This ensures pilots find flying the airline's fleet professionally challenging, fulfilling, interesting, and exciting. Running 24/7, the training team runs every kind of course – from type conversion to command development.
The airline is investing US$135 million in building a new, highly advanced pilot training facility spanning 63,318sq.ft that's set to open in March 2024. The facility will house 6 more full-flight simulators for its future fleet, including the A350 and Boeing 777-9 aircraft.
Pilots also have access to a range of non-technical training programmes at the Emirates Aviation College and Emirates Aviation University. They enjoy well-defined career paths at Emirates, and can advance to roles in management, training and recruitment. Emirates' mainly expatriate pilot community relishes living and working in a safe, secure, multicultural environment with colleagues from over 170 nationalities that is reflective of its hub, Dubai. Pilots receive a competitive tax-free salary, spacious accommodation, education allowance, and excellent dental, medical and life cover.
They also enjoy chauffeur-driven transport to and from work, laundry services, 42 days annual leave, annual leave tickets, concessional cargo, discounted travel benefits for friends and family, and much more.
Ramping up pilot recruitment
After a successful pilot recruitment roadshow in Hong Kong and Singapore through March and April, next on the pilot recruitment agenda is an online information session on Wednesday, 10 May 2023 at 1pm, Dubai time.
Interested pilots, who would like to learn more about the various flight deck roles, should register on https://www.emiratesgroupcareers.com/pilots/ and can get more info on entry requirements on https://www.emiratesgroupcareers.com/search-and-apply/?jobcategory=Flight%20Deck
A380 Direct Entry Captain
This programme is for technically proficient commanders with a minimum of 3,000 hours of recent command on Airbus fly-by-wire wide body such as the A330, A340, A350, and A380, and minimum of 7,000 hours of total flying time on multi-crew, multi-engine aircraft, in addition to meeting other eligibility criteria.
Accelerated Command Programme
This programme is primarily designed for experienced Airbus Captains who currently command narrow-body aircraft on regional routes and wish to dial up their careers by working with a global airline brand. Captains with a minimum of 1,500 hours of Airbus fly-by-wire experience will join Emirates as A380 First Officers on an enhanced salarypackage. They are eligible for an accelerated command upgrade after a minimum of 700 flying hours and two successful recurrent checks. Typically, Emirates pilots achieve these milestones in a little over a year as they fly a mix of ultra-long, long- and short-haul routes.
First Officer
Candidates for First Officer roles must have multi-engine, multi-crew aircraft experience, a valid International Civil Aviation Organization (ICAO) Airline Transport Pilot License (ATPL), and a minimum of 2,000 hours on 20-tonne maximum take-off weight aircraft.