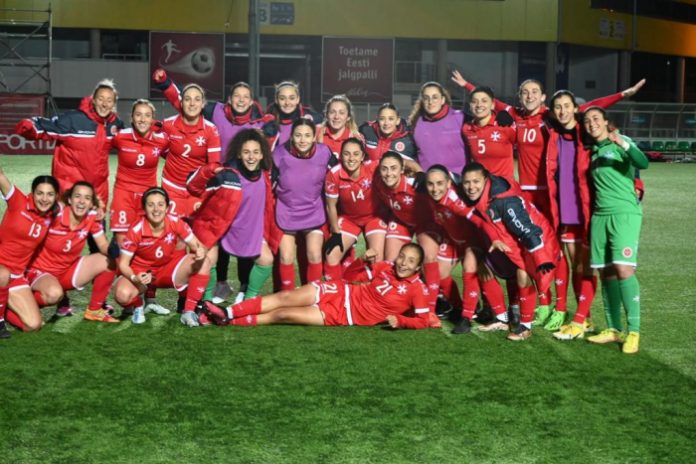 MALTA                 2
ESTONIA              1

(HT 0-0) 1-0 Haley Bugeja 73', 1-1 Liisa Merisalu 87', 1-2 Maria Farrugia 89'
The Malta Women's National Team have defeated Estonia winning the third friendly match under the helm of WNT Head Coach Manuela Tesse on Friday evening.  The game was played at the Sportland Arena in Tallinn in single-digit temperatures.
When compared to the team's previous match against Luxembourg, coach Tesse made three changes to the starting lineup, choosing experienced Rachel Cuschieri, Shona Zammit, and Haley Bugeja in favor of Stephania Farrugia, Dorianne Theuma, and Nicole Sciberras.
Malta was the superior team throughout the game, and it would have been exceedingly sad for them to lose after their performance tonight. Malta made a good first impression and nearly scored from a corner kick, but the Estonian goalie stopped it.
Maria Farrugia, Haley Bugeja, Rachel Cuschieri and later on during the game even Raina Giusti went came close to scoring numerous times.  They showed superb quality with one-to-one passes finding each other whenever necessary however in front of goal they failed to score.
After 12 minutes, Maria Farrugia's longshot was saved by the goalkeeper.  On 20th minutes, it was Haley Bugeja who saw her shot saved by the goalkeeper who was kept very busy by the Maltese players.
On 59th minutes, the hosts were dangerous however Stefania Farrugia and Janice Xuereb made sure that they don't score.
With a subsequent Bugeja to Cuschieri pass on the 70th minute, the latter failed to successfully lob the ball over the goalkeeper's head.
Haley Bugeja netted a scorcher three minutes later to defeat the Estonian goalkeeper and send the Maltese into hysterics.
Another effort by Maria Farrugia was saved into a corner by the Estonian goalkeeper after 79 minutes.
Two minutes later, Haley Bugeja was served by Rachel Cuschieri, but the latter's diagonal attempt failed to connect.
A minute later, the Estonian goalie saved Maria Farrugia's diagonal shot after Hayley Bugeja had served Maria Farrugia. A strong attempt by Raina Giusti in the 83rd minute came close to scoring, but the Estonian goalkeeper saved it.
The game was briefly tied on 87th minute, when Kristina Bannikova's diagonal pass found Lisa Meriisalu, who blasted it past Maltese goalkeeper Janice Xuereb and into the net.
Maria Farrugia received a perfect pass from Haley Bugeja two minutes later, and with one minute remaining in the match, she calmly handled the ball and unleashed a powerful thunderbolt that beat the Estonian goalkeeper.
Malta: Janice Xuereb, Ann Marie Said, Emma Lipman, Rachel Cuschieri, Kailey Willis, Maria Farrugia, Shona Zammit, Charlene Zammit, Brenda Borg, Emma Xuereb, Haley Bugeja.
Coach: Manuela Tesse.
Estonia: Karina Kork, Siret Raamet, Jaanika Volkov, Rahel Repkin, Lisette Tammik, Kelly Rosen, Kairi Himanen, Vlada Kubassova, Mari liis Lillemae, Kirstina Bannikova, Signy Aarna.
Coach: Sirje Roops.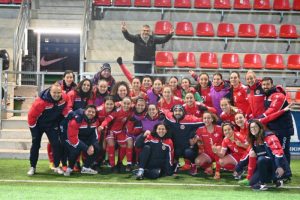 Source: MFA