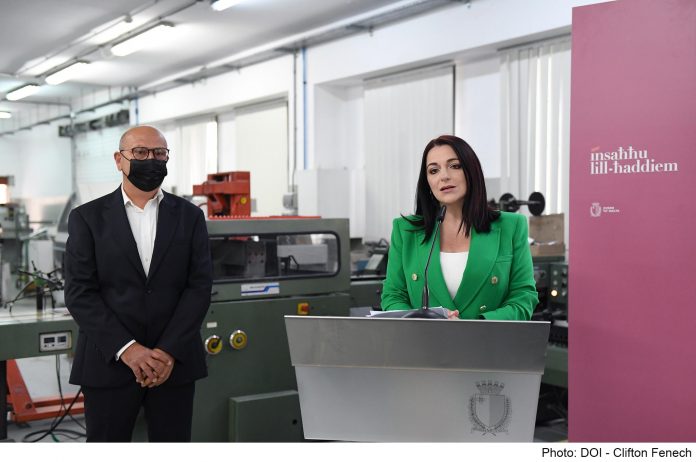 "The government's help during this pandemic was crucial for my company" said Mario Abela, a 53-year-old man who, despite his disability, runs his own printing company with a workforce of 22. Mario was born without half of his left hand but this disability never hindered him from achieving his goals, and has successfully managed his company for 26 years.
This morning, on the occasion of the week dedicated to the National Worker's Day, Minister for Inclusion and Social Wellbeing Julia Farrugia visited this company in Qrendi. The Minister praised Mario's outstanding courage and perseverance: "Mario is a clear example of how we should never give up in the face of challenges".
Minister Farrugia Portelli noted that like many other workers Mario continued to work even during the pandemic. The Government's decisions were crucial in saving 100,000 jobs in this challenging year. With an investment of €415 million in wage supplement, companies were able to retain their workforce, said Minister Farrugia Portelli.
Mr Mario Abela reiterated that ever since he was a small boy he has always been very independent and encouraged youth with disabilities to never give up. He also said that he never let his disability keep him from doing what he loves.