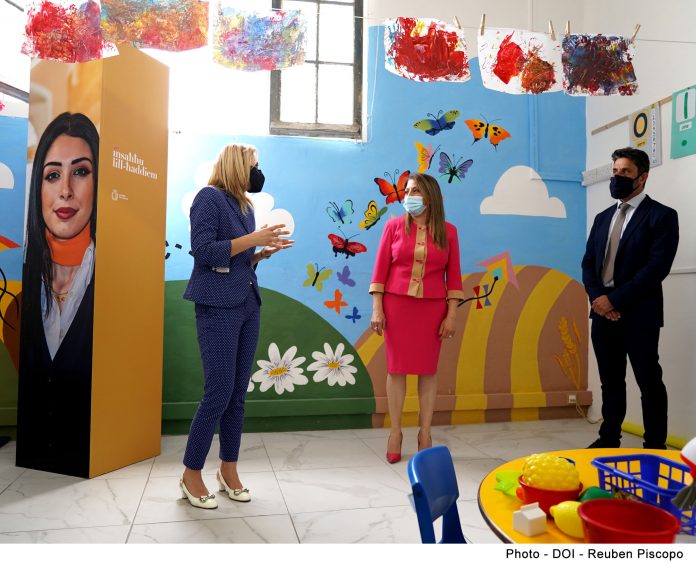 "Work being done by the Ministry for Education is not only assuring the continuous training of our educators and strengthening teaching methods and the curriculum, but is also continuing to improve the environment in which our educators are providing our children their education", stated Minister for Education Justyne Caruana.
The minister visited the administration and educators at Ħamrun Primary School SS, part of St George Preca College – a small school, but with a dedicated team of administrators and educators.
During the period throughout which schools were closed due to the measures taken in connection with the pandemic over the Easter holidays, a programme of works was carried out in this school in order to improve the environment with major maintenance and upgrading works. The government is currently investing €50 million in the education sector at the infrastructural level, in addition to this programme of maintenance and upgrading.
"There are schools that we are rebuilding, there are others in which we are adding extensions, but there are schools that for various reasons, which require us to improve their environment by giving them a new look, a new lease of life, as we are doing in this school. Schools are a second home for our educators, and therefore we are doing everything possible to make this home the best environment for educators and also for our students", continued Minister Caruana.
The minister was greeted by Jude Zammit, Principal of the College, and Johanna Cauchi, the Head of School, who accompanied her during the tour of the school during which she met the educators and staff. Ms Cauchi explained the work done with much dedication by all educators and staff, which makes not only the student as a priority, but also the overall educational environment.
Minister Caruana thanked all the workers for the hard work they are doing, especially in these times of pandemic. "This visit is symbolic, because while I wanted to visit this particular school, my thanks go to all the educators across the country", continued the minister.
This school currently accommodates about 130 students, who are cared for by 32 educators and LSAs, while there is a total of 38 staff members in all.
The building, part of which houses this school, was built in 1888, has two sculptures on the façade of Queen Victoria and Prince Albert, and previously served as a hospital during the war.