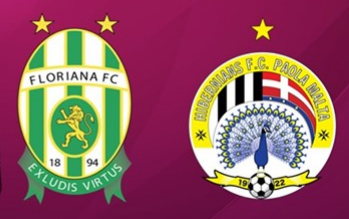 A game with three valuable points for both sides that ended in a draw.
Dunstan Vella gave Hibernians the perfect start when his powerful shot beat Cassar in the Floriana goal.That lead lasted until just before the hour mark when Kristian Keqi was quickest to react inside the HIbs area to put Floriana back level.

Hibernians knew a win would put them top of the table, albeit it temporarily, while Floriana needed a win to move into the top half .

Hibs began brightly enough when recent signing Fonseca fired just wide in the opening minutes.Another Hibs move was broken up by Floriana who launched a quick counter-attack with Jake Grech clearing the danger.Fonseca almost restored Hibs lead but his thunderous volley was well blocked by Cassar.There was a lengthy break when Agius and Arias collided with the Floriana player needing attention for a head injury.
Floriana continued to apply pressure on the Hibs back line with Cheveresan showing quick feet to wriggle past defenders only to see his attempt go wide. Extra time before the break saw Floriana launch another attack which needed Calleja Cremona be at his best.
After the break Floriana came out strongly and pushed Hibs back towards their own goal. That pressure was regarded when Keqi made it 1-1.Hibernians were running on empty and were  relieved when the whistle went. A game that started with promise ended with Hibs grateful to take a single point.