"The supportive economic measures launched by the government amid unprecedented adversities are demonstrating their long-term sustainability", said Minister for the Economy, Investment and Small Businesses Silvio Schembri during a visit to Toly Products, a company which has started its operations in Malta in 1971. Throughout its 49-year history, it has grown exponentially and now employs 320 employees.
"Toly's main priority, that of safeguarding jobs, mirrors accurately our own. During the pandemic, which has affected each sector across the globe, Toly employees had to be furloughed to a 4-day week operation. Thanks to the bold, economic measures launched by the government, with great satisfaction I welcome the news that the workers will soon be returning to a 5-day week. I am delighted that the help of government through the salient measures and schemes launched, served as an essential support to safeguard all jobs to enable you to pursue your operations".
Through the COVID Wage Supplement issued between March and July, Toly benefitted from more than €185,000, enabling the company to overcome this difficult period. Minister Schembri said that for this reason, it was of utmost importance that the Wage Supplement is allocated in a timely and efficient manner when needed and immediately, an effort which has assisted the industry to weather the storm caused by the pandemic on a global economic level.
"We shall also continue to explore all avenues to enable and facilitate the bolstering of innovation for the benefit of our industry. It was indeed of great pleasure to hear about Toly's ambitious investment projects which are in the pipeline and complement our vision in shifting to a circular economy".
Minister Schembri thanked all stakeholders involved, Toly management, GWU, and employees for their understanding and efforts to ensure that all jobs are protected.
"I encourage workers and assure them that we shall continue to protect their hard work and do everything possible to safeguard their jobs and livelihood. As a government, we shall continue to stand shoulder to shoulder throughout and remain wholly receptive to your projects. In the meantime, I encourage you to grasp and make the best of the opportunities ahead. We also pledge that as we have done in the past, we shall continue supporting you on the journey towards the regeneration of our economy", said Minister Schembri.
Chairman and CEO of Toly Products Andy Gatesy said that being a privately-owned business with a strong family spirit, Toly has a long-term vision and wants Malta to remain at the centre of its business.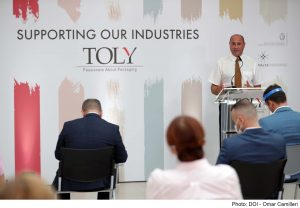 "We are customer-centric with a global commercial structure. We are technically proficient with state-of-the-art manufacturing and have created a business model which is agile and is disrupting a traditional packaging business. Whilst COVID19 has disrupted the beauty industry, closing down points of sales, and reducing the need for make-up with people working from home and wearing masks when out in public, we are confident that the industry is resilient and will bounce back, once consumer confidence is regained. For sure Toly will be ready to take advantage of new opportunities when the time comes. In the meantime, the key is to keep people safe, protect jobs and retain the soul of our company. I thank the government for the continuous support towards manufacturing. I'd also like to thank the employees for their commitment and sacrifices over the past few months".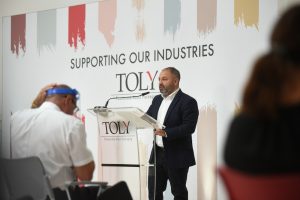 CEO of Malta Enterprise Kurt Farrugia also thanked the management, GWU, and employees, acknowledging that through such difficult times they have managed to pull through the storm together. He reiterated that manufacturing remains the backbone of our economy while acknowledging that several companies managed to retain employees despite feeling the pinch.
"Even during this difficult period, there are plans by a number of manufacturing companies to expand and modernize their plants, not only consolidating their workforce but also positioning themselves to increase employment in the coming months. Manufacturing is a major sector, which greatly contributes to our vision for sustainable economic development. As Malta Enterprise, we extend our support in all possible ways", concluded Mr Farrugia.
Photos (DOI/MEIB)