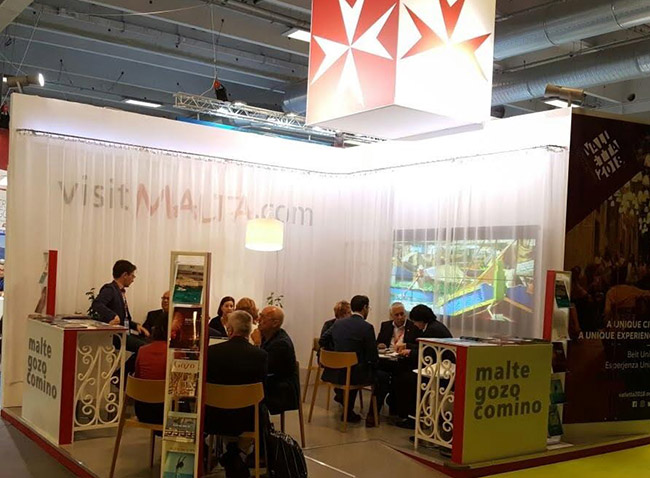 French tour operator Héliades, which will be offering Malta holidays for the first time as from November 2016, launched its programme during a special event organised jointly with the MaltaTourism Authority office in France at IFTM Top Résa – the most important professional tourism fair in France.
The event which was held at the prestigious Palais Brongniart, the former Bourse (Stock
Exchange), was attended by over 150 French travel agents.
Jean Brajon, Héliades Chairman, said that he was sure that Malta will prove to be a successful tourist destination in 2017. Mr Dominic Micallef, Senior Manager MTA France delivered a presentation on Malta and Gozo as an ideal short break winter destination, highlighting the rich calendar of events in Malta in 2017, as well as the fact that Valletta will be European Capital of Culture in 2018. A Maltaquiz was held during the event, the 8 winning travel agents will be participating in an education trip to the Maltese archipelago in the near future.
Among those present were Angelo Sciberras, Air MaltaDirector in France and Belgium as well as Robert Arrigo of Robert Arrigo & Sons who will be representing Héliades in Malta. Besides Héliades, other French tour operators will be offering Malta holidays for the first time as from April 2017.
In the days leading up to IFTM Top Résa, which was held at Porte de Versailles from 20-23 September, MTA France ran a poster campaign in the Paris Metro in collaboration with two online French tour operators. During the fair itself, MTA France received an award from the French tourism trade magazine L'Echo Touristique for its use of Social Media in France, placing third behind Mauritius and Ireland.
Malta Tourism Authority CEO Paul Bugeja stated that "Prospects from the French Market seem tobe on target. With more than 128,000 French tourists visiting Malta in 2015, and an 8.1% increase compared to 2015 registered during the first seven months of 2016, the French market is expected to exceed the projected targets for the year. I was particularly pleased to hear that MTA France received an award for its use of social media. This highlights the importance we attribute to such online media –in particular Facebook and Twitter – in the promotion of the Maltese Archipelago overseas".