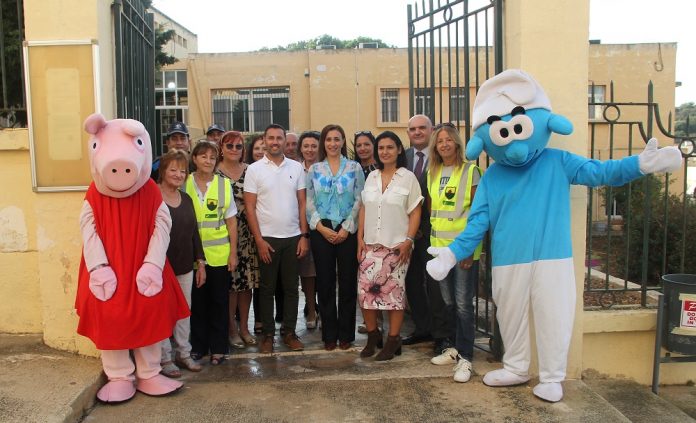 With the new school year, children and seniors from Kalkara can now enjoy the School Grannies project which started as a pilot project back in 2021.
This project came into being through an agreement that was signed between Active Aging and Care in the Community and the Kalkara Local Council.
After a call of interest from the Kalkara Local Council, the students of the Kalkara Primary School will have two school grannies assisting them entering and leaving the school.
The ultimate goal of this concept is that older people who have retired from work or who have now lost family responsibilities are encouraged to remain active in the community, while promoting interaction between generations.
During a visit on the first day of this school year in Kalkara, the Parliamentary Secretary for Local Government Alison Zerafa Civelli followed the school grannies assisting the children entering school.
She wished them a great year, while praising their commitment to this initiative.
"The intergenerational activity contributes to a more inclusive society, by reducing the differences between the generations and fostering mutual respect and understanding," said Zerafa Civelli.
The role of School Grannies requires that, persons with this responsibility be near the school to welcome the children while entering and leaving the school, according to a schedule prepared by the Local Council.
In collaboration with the police, they also help to stop and/or direct traffic and help children to cross the road.
The Mayor of Kalkara, Wayne Aquilina explained that this initiative will translate into several positive advantages in the Karkari community and will continue to strengthen the sense of community in the locality.
"Persons over 60 will have the opportunity to be close to the children in the community, while every day the children will find someone who welcomes them, talks to them and guides them outside the school door,"
explained Mr. Aquilina.
CEO of Active Aging and Care in the Community, Renzo Degabriele expressed his satisfaction that this inter-generational initiative, in collaboration with the Kalkara Local Council, is being successful
.
He encouraged more Local Councils to participate in this initiative.