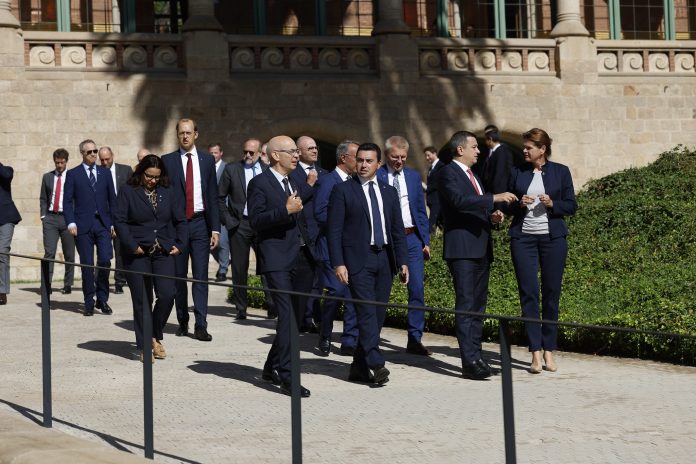 The issue of traffic in European countries especially those which are densely populated is impacting our quality of life, connectivity, trade, and creating social and mental health challenges that we must address collectively.
This was stated by Minister for Transport, Infrastructure and Capital Projects Aaron Farrugia during the Informal meeting of Transport Ministers in Barcelona.
Minister Farrugia emphasised the importance of closely monitoring traffic and its impact on our societies. "During this meeting, we felt the need to raise the issue of traffic and its impacts high on the agenda for all EU Transport ministers. Traffic has a direct impact on any economy; its trade and connectivity. Studies also highlight a direct correlation between excessive traffic and mental health. To this end, we've embarked on an ambitious plan to provide our people with a realistic solution to personal cars. Public transport might not work every time for everyone, but it certainly is offering an alternative. We're committed to keep on improving and increasing bus frequencies, while simultaneously implementing bigger projects such as Malta's first active mobility lanes through an investment of €35 million and better road infrastructure," he said.
"Malta took various initiatives to ensure that the transport sector is and will remain accessible for all. As far as public transport is concerned, Malta started waiving the related ticket costs to certain demographic groups years ago, to the point where now public transport is free to all holders of the national bus card. Moreover, over the past years we introduced financial incentives related to vehicles with alternative fuels and, in particular, electric vehicles with the intention of bridging the related price-gaps. Last week, we inaugurated 30 new fully electric buses that will be added to the public transport fleet. This will result in 16 new frequencies and up to 410 added trips per day. The demand is increasing, and we are addressing this," the minister said, adding that the efficiency, accessibility and reliability of sustainable forms of transport continues to improve, but that there is more to be done.
The minister also explained that the introduction of the fast ferry passenger service between Malta and Gozo, has improved connectivity between the two islands and has also contributed towards more efficient and cleaner mobility, as it encourages the use of public transport by commuters. This proves to be an easier, and a time and cost-effective solution for the access to services and for Gozitan residents, whilst opening another route for tourism in Gozo.
Photos: Spanish Presidency of the Council of the EU