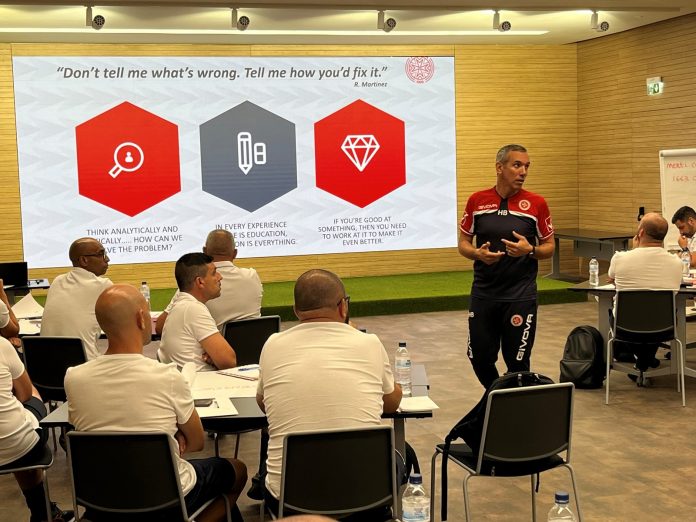 The Malta FA Technical Centre has kicked off the new season with a new UEFA A Diploma Course made up of 30 coaches.
The new cohort is made up of experienced youth, amateur senior team coaches, also several ex-players pursuing to enrich their coaching knowledge and increase their football network.
The course started on Wednesday with a 3-day module that took place at the Centenary Stadium and Hall with theoretical, practical and group sessions. The course is expected to finish with the final practical and theoretical assessments in April 2024, with around 200 hours of lectures, practical sessions and important football experiences for all the candidates.
The UEFA A Coaching Diploma gives the opportunity to these coaches to act as head coach to Senior teams competing in the Challenge League and in the Youth League at Section A and B, while also being an assistant coach to a UEFA Pro coach in the Malta Premier League.
The UEFA A is only one of the series of courses being held this season at the Malta FA Technical Centre through its Coach Education Department.
The Malta FA will in fact be organising a UEFA PRO Course, a UEFA C Course, a Football Fitness Coach Course (UEFA Fitness pilot course), a Match Analysis Course, a Goalkeeping Level 1 Course, a Futsal C Course (Level 1) and a number of Grassroots Leaders Courses, throughout the season 2023/24.
Those interested in attending one of these courses should keep an eye on our Learn MFA page for more information as the season unfolds.
For more information about Learn MFA and courses organised by the Malta FA and the Technical Centre please visit – https://www.mfa.com.mt/education/