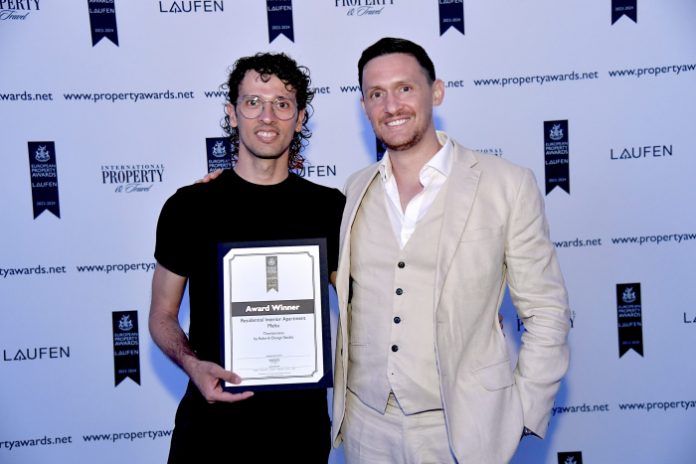 Rebirth Design Studio participated in the International Property Awards in London last month, winning two top awards at the event.
The leading Maltese design studio won an award in the category of Residential Interior Apartment for Malta for its interior design project, Timelessness. The quality and excellence of the same project was also recognised with a further five-star award at a Gala night following the event.
Rebirth Design Studio co-founders and industry experts Architect Paul Cuschieri and Malcolm Abela Sciberras accepted the awards at an official presentation held during the IPAX Networking Event and Gala Dinner on 27 June at the Marriott London, Grosvenor Square, London. By invitation, Cuschieri also represented Rebirth Design Studio in a panel discussion on architecture and interior design.
"The event was a highly rewarding experience," says Cuschieri. "We had the opportunity to meet many people in the industry from across Europe, exchanging views on the market, how it's evolving, and learning from each other's knowledge and experience.
For us, winning such an award was, first and foremost, recognition for the hard work we put into our projects. The cherry on the cake was the fact that I was invited to be part of the design panel discussion to offer our opinion on various aspects of the industry, such as efficient design, the importance of water, appreciation for quality over quantity, and what excites us about the future."
The International Property Awards celebrate the projects and achievements of
companies operating in the property and real estate industry, from across Europe. An International Property Award is a world-renowned mark of excellence, recognising quality, design, safety and sustainability, among a host of other important criteria.
Initially nominated by Banju Boutique, Rebirth Design Studio prepared a presentation and booklet on its Timelessness project, as part of the selection process for the Awards.
The innovative interior design project focused on redesigning a newly constructed
apartment in Malta to better fit the needs and vision of the homeowner. Merging
contemporary design with classical appeal, the Rebirth Design Studio team created an inspiring living space featuring an open plan layout and a soft colour palette with natural finishes, adding high-end pieces to complete the design, such as an eye-catching dining table from Timothy Oulton.