In a news conference, the draft National Plan for Organic Food was launched for public consultation.
This plan was launched by the Minister for Agriculture, Fisheries and Animal Rights Anton Refalo and by the Parliamentary Secretary for Fisheries, Aquaculture and Animal Rights Alicia Bugeja Said.
It was explained that through this plan food security will be ensured in our country as well as another measure of Budget 2023 will be implemented. This plan focuses on three pillars whose aim is to offer quality local organic food to the consumer, both from the aspect of agriculture, aquaculture, as well as offering a sustainable income for Maltese and Gozitan producers.
The main goal is for our country to have 5% of the agricultural land used for organic farming by the year 2030. Minister Anton Refalo said that through this plan, the government is implementing the concept of sustainability, both on an environmental and an economic level. "Our primary purpose remains that the producer is helped to make this change. Therefore, we must give him the appropriate financial assistance, access to land and markets and all the training and information he needs. On the other hand, we also need to continue to strengthen our structures, including the competent authorities and those who offer services related to this sector, so that they are armed with the necessary resources," added Minister Refalo.
The minister explained that in the food sector the government is moving with a vision and common goals to ensure that the consumer has adequate access to food according to demand even at a reasonable price; ensure that producers have an appropriate profit from the added value on organic food; and to invest in the environment so that production remains sustainable in the future.
"Once again, this government is showing how much it is really supporting our farmers, villagers and fishermen; a government that continues to carry out and today we have come to present the first national plan for organic food," concluded Minister Refalo.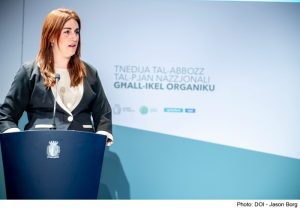 Parliamentary Secretary Alicia Bugeja Said said that this plan is a crucial development for several sectors, which are launching important milestones for local food production, with the aim of strengthening the economy of our country as well as the health of – the Maltese and Gozitan people. She added that the role of organic food is not only limited on land, and emphasized the importance of the direction they will take in the aquaculture sector, which is a sector with a total production of €225 million and it is one based on known species such as tuna, and the growth of aurat and sea bass.
"The strategy we are launching today really affects many: farmers and villagers; to fishermen and consumers – especially those looking for products that are based on organic production. We are carrying out several transformations in this sector and I believe that together we can take this step to make a difference," concluded the parliamentary secretary.