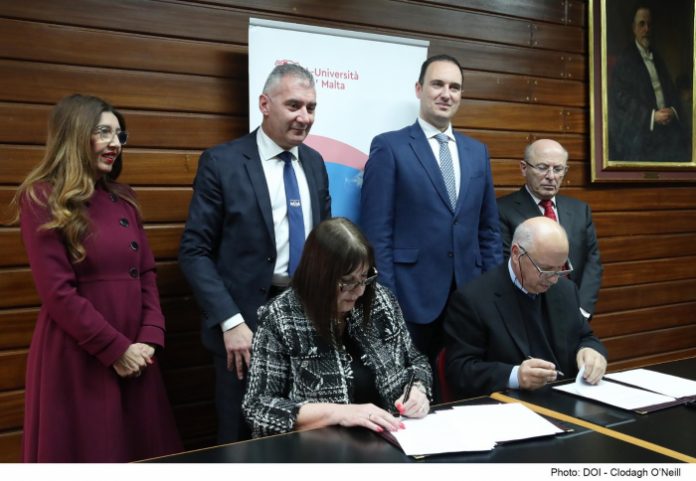 An agreement was signed through which it was agreed that University students from the Faculty of Medicine and Surgery and from the Faculty of Dentistry will be assigned to a training period at the San Vincenzo de Paul Hospital and facilities others around Malta, to have practical training linked to their line of study.
An agreement that leads to these students having access to clinical training of the highest level.
The agreement between the Ministry for Active Aging and the University of Malta, was signed in the presence of the Minister for Education, Sport, Youth, Research and Innovation Clifton Grima and the -Minister for Active Aging Jo Etienne Abela.
During the news conference it was explained the importance of students having these opportunities to practice what they are learning through training periods in a workplace related to their studies.
Minister Clifton Grima praised the work done that led to the agreement and said, "This is the second agreement of its kind that the University is signing in one week, which shows the commitment in the educational field to give students all the opportunities they need to have an education that meets their aspirations from every possible level."
Minister Jo Etienne Abela said that from his experience he knows how essential "bedside teaching" is. "This type of teaching helps to form dedicated and proficient doctors. But, it is also essential that we press on areas of good governance in medicine and modern research. Thus, this MOU that was signed today will help to give the necessary experience to the students so that they have a real and current scenario," said Minister Abela.
The Rector of the University of Malta Professor Alfred J. Vella expressed his satisfaction with the signed agreement. He claimed that, "the University of Malta is proud to be entering into this agreement with the Ministry for Active Aging, so that the medical students gain experience and skills by being exposed to real scenarios in outside the classrooms."
Professor Vella continued that this agreement is crucial for the formation of the future medical professionals of our country, while he claimed that the University is looking forward to continue strengthening this legacy with the Ministry for Active Aging .