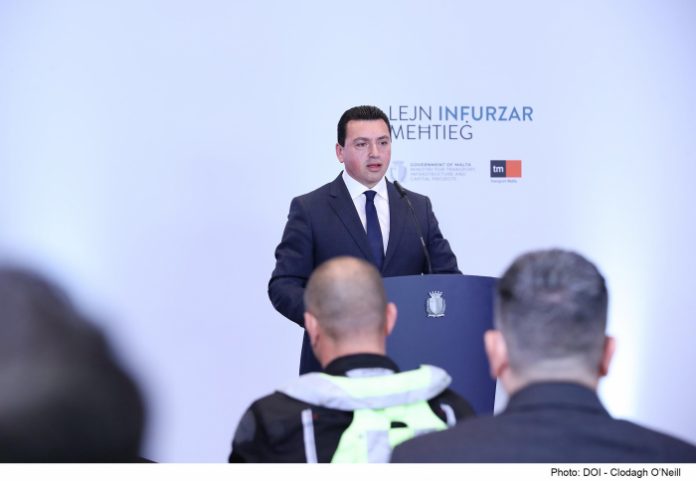 In the past weeks, the Government continued to implement its comprehensive plan to improve safety on our roads; a plan that is supported by many and that is being implemented through several measures, legislative changes, and new structures.
"Education and information campaigns will be intensified, as will the deterrent for contraventions that studies show to cause many accidents. In the same way, to ensure that the deterrent doesn't only remain on paper, it is also necessary to empower the enforcement department with all the tools it needs. Despite the fact that enforcement has ramped up in our roads, we are still seeing some serious shortcomings. This is the reason we are increasing the deterrent by increasing fines and increasing point deductions," Minister Aaron Farrugia stated.
Minister Farrugia was speaking during press conference during which a number of announcements were made:
Four new motorbikes for enforcement officers through an investment of €120,000 for a total of 14;
Increased operation throughout 2022 with 24,500 fines issued, and 607 cars towed;
More training provided to enforcement officers over the past months;
Improved road safety: better infrastructure, more enforcement, and tougher penalties.
Present for this press conference were the Chief Executive of Transport Malta (TM) Brigadier Jeffrey Curmi, the Director for Enforcement within the Authority Patrick Pollacco, and Chief Officer for Land Transport Pierre Montebello.
"With our country undergoing demographic changes and our lifestyles moving at an increasingly faster pace, our roads bear a heavy brunt with these developments. We are not shying away from these challenges – which, after all, reflect similar realities in other countries. We are doing this through the application of engineering, road design, education, and increased enforcement; the latter of which would serve as a deterrent for those who, up until recently, may have felt that abuse is part of the status quo. Ensuring each other's safety, our roads are a shared responsibility. The Government is holding its own end through a comprehensive plan, and today we are ready to take it one step further," Minister Farrugia stated.
It was also explained that TM is continuing to increase the capacity for more enforcement on the roads through a €120,000 investment of four new motorcycles that will be added to the existing fleet.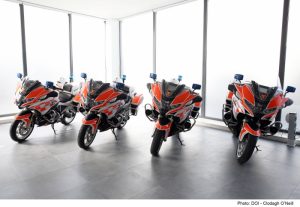 The addition of these motorcycles will lead to an increase in enforcement, reduced waiting time and better assistance from the officers of the Authority to drivers.
The enforcement section within TM continued strengthening its operation through various initiatives and training offered to its officers. The Operations Response Unit section was introduced and several training opportunities were provided.
In 2022 the Roadside Inspections also increased in Malta and Gozo. Several Joint Roadside Inspections were also carried out together with other entities. This increase in operations led to a total of 24,500 fines being issued during the year 2022, and 607 vehicles were not in compliance with traffic regulations.
Fines and points
| | | |
| --- | --- | --- |
| Infringement | At present | Changed |
| Driving through a red light | €100 | €200 |
| No-entry | €46.59 | €75 |
| Excessive speeding: 15km/h over the speed limit | €69.88 | €100 |
| Driving a vehicle carrying iron rods or nets which are not properly secured | €116.47 | €200 |
| Non-usage of tailboard, overloading or spillage | €46.69 | Not less than €250, but not more than €500 |
| Obstruction (including slipways and piers) | €104.82 | €104.82 [reworded] |
| Obstructing the free flow of traffic in any road including all types of obstructions, such as obstructing a bus or priority lane, the safe entry, docking and existing for bus stops, creating an unauthorised road or lane closure, etc) | €104.82 | €104.82 [reworded] |
| Overloading the number of passengers | €11.65 | €50 |
| Use of vehicle for the purpose other than licensed in case of hire or compensation | €34.94 | €200 |
| Use of mobile phone, earphones or over-ear headphones in the ear facing the window and while stationary or in motion for motorcycles, mopeds, and ekick scooters and vehicles of category L, M1 jew N1 | €100 | €200 |
| Use of mobile phone, earphones or over-ear headphones in the ear facing the window and while stationary or in motion for vehicles of category N2, N3, M2 u M3 and drivers carrying passengers for hire or compensation | €100 | €300 |
| | | |
| --- | --- | --- |
| | Deduction at present | Changed |
| Use of mobile phone | 3-6 | 6-9 |
| Use of headphones while driving | 3-6 | 6-9 |