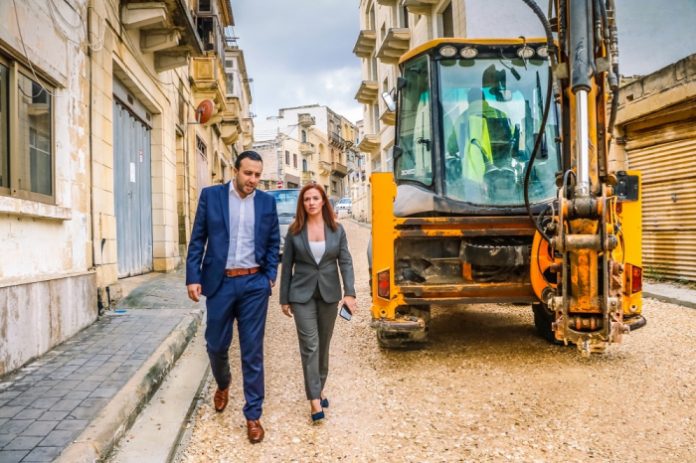 The Minister for Gozo Clint Camilleri, together with the Minister for Environment, Energy and Enterprise Miriam Dalli visited the ongoing works in Triq Sir Luigi Camilleri, Victoria Gozo and the works done in Triq il – Concepcion, the Qala. These are two of a number of roads around Gozo that were rebuilt and were financed by the Ministry for Gozo together with the Water Services Corporation and Enemalta.
With a value of more than €2 million, in six roads around Gozo, the Ministry and the Corporation for Water Services have changed the water and sewage services, while continuing to extend the network of the New Water. Before the roads were resurfaced with asphalt, Enemalta also carried out several improvement works in the electricity distribution infrastructure, by passing new high voltage cables and preparing the necessary connections for a new substation, to continue meeting the demand for electricity in these areas in the coming years. Thus, with this investment the residents of the area are enjoying a better environment in their streets, along with more reliable water and electricity services.
The works were carried out in Triq ix-Xagħra, ix-Xagħra, Triq Sir Luigi Camilleri, ir-Rabat, and Triq il-Concîzizioni, Triq Papa Piju 12, Triq il-Mitħna and Triq ta Semper, il-Qala.
Minister Clint Camilleri said that the infrastructure on the island of Gozdija remained a priority and in 2022 the ambitious program of rebuilding roads will continue. He stated that "one of our main objectives is the planning and development of the infrastructure in Gozo in order to facilitate sustainable development and continue to raise the standard of living of the residents. This year, to date, we have laid no less than 85,000 square meters of asphalt around Gozo. A 25% increase from the previous year's record."
Clint Camilleri thanked Minister Dalli for the collaboration that is being done with the Water Services Corporation and Enemalta so that more roads in Gozo have their services changed. He also mentioned the collaboration that is being done with the Water Services Corporation to continue expanding the New Water network so that more farmers can benefit from an alternative source of water for their needs.
Minister Miriam Dalli said that "The Corporation for water services and Enemalta are constantly working to improve the quality of services to customers in Malta and Gozo. In collaboration with the Ministry for Gozo, they have taken care that while road infrastructural work is in progress, water and electricity infrastructures will be changed and replaced by new ones that will meet today's and future demand."
Minister Dalli maintained that this investment will mean that more families will benefit from an increase in the efficiency of essential services and security of supply. She concluded by saying that while these investments are being made, they are seeing to continue extending the New Water network for farmers, to even preserve the ground water.