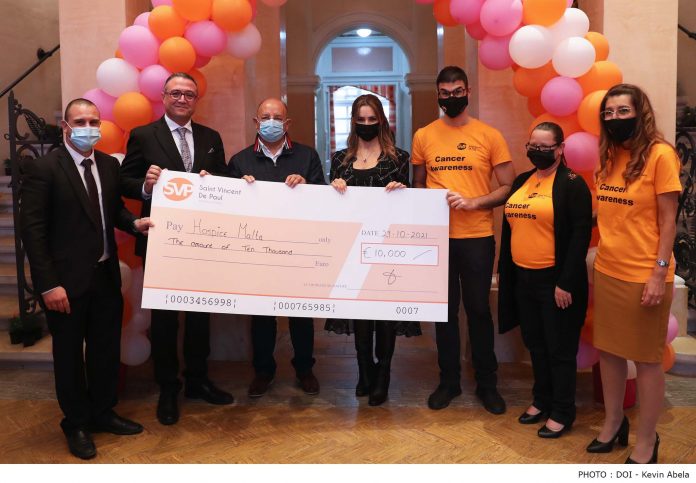 On the occasion of the month dedicated to cancer awareness, the workers and residents of St. Vincent de Paul organized a day of fundraising activities for Hospice Malta.
The sum of € 10,000, collected by the workers and their representatives, was presented to the Chief Executive of Hospice Malta Kenneth Delia, in the presence of the wife of the Prime Minister Dr Lydia Abela and the Minister for -Elderly and Active Aging Michael Farrugia.
Minister Michael Farrugia praised the workers who knew how to get up for the occasion and organized this activity with great commitment and dedication.
He reminded that nowadays, the St. Vincent facility is not only a residence, but also offers a high level of care, medical investigations and services that are being offered even to the elderly living in the community and this with the main purpose of there would be less burden on Mater Dei hospital.
Minister Michael Farrugia expressed his pleasure at the fact that Hospice Malta has continued to evolve in Maltese society and palliative care today is an integral part of the way one should know how to behave with people with cancer and their relatives.
Dr Lydia Abela praised this initiative put up by the workers who work in San Vincenzo, which was held for the third consecutive year, where this year a record sum of € 10,000 was raised. These funds will go to a noble cause and will benefit people who need help from various services from Hospice Malta.
Dr. Abela continued to reiterate and commend the work that workers do with seniors. She stressed that their work goes beyond that of a service provided because with their dedication they also give kindness, company and friendship to the residents living in San Vincenz.