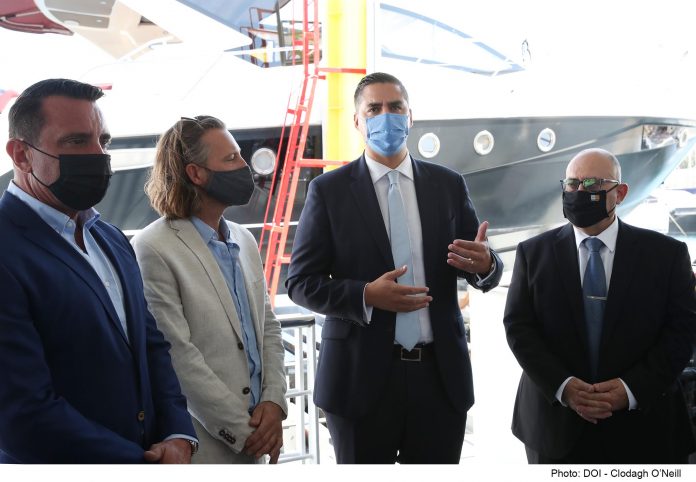 With an investment of €3 million, Yacht Lift Malta Ltd, the first operator of floating boat lifts in the Mediterranean, has built a new yacht lift that will be offering an environmentally friendly, efficient and bespoke concept of boat servicing and maintenance. This was inaugurated by Minister for Transport, Infrastructure and Capital Projects Ian Borg during a press conference in Ta' Xbiex.
Minister Ian Borg said that, "We are at the forefront of the maritime sector and remain committed to working harder in order to remain leaders in this sector. We have seen great achievements, namely our Maltese flag, which has almost a thousand superyachts registered under it. This yacht lift offers a unique boat servicing and maintenance concept for the Mediterranean region. It is worth mentioning that this yacht lift also attracted owners of foreign boats from countries around the Mediterranean and in Europe, who found it more convenient to use Yacht Lift Malta instead of foreign shipyards. This is the way we want to move forward. This is a government in favour of innovation and progress. We are committed to remain up to date and to implement the best technology so that the Maltese flag truly remains the best in Europe in the maritime industry and further continue to attract more investments to our country."
This yacht lift gives boat owners the option of taking up their vessel at sea instead of on land, saving time and money, whilst also reducing waiting times. Its innovative system offers the latest technology in yacht lifting systems by putting the least amount of stress on the boat's hull, as the vessel is raised by the keel instead of straps. Furthermore, the yacht lift leaves no pressure on vessels and therefore prevents any damage from occurring.