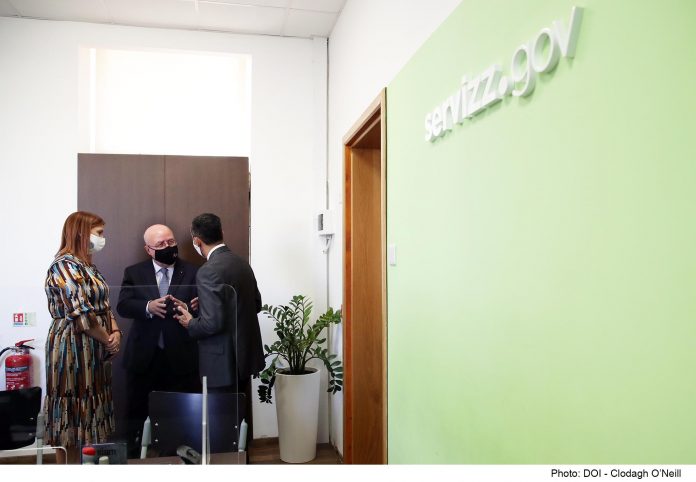 servizz.gov is entering the second phase of its renewal. The Public Service is enacting further measures to increase service provision and ensure flexibility for its workers by putting in place remote workspaces. These will come into effect next year.
Following the inauguration of servizz.gov's Central Office in Mosta earlier this week, Mr Mario Cutajar, the Principal Permanent Secretary, visited a number of regional centres from which servizz.gov offers about 1,500 services under one roof. He was accompanied by the Chief Executive of servizz.gov, Mr Massimo Vella, and the Chief Operations Officer, Ms. Melissa Vella Buhagiar.
During the first visit at the Birkirkara hub, located in the civic centre, Mr Cutajar was able to follow closely the work being done to expand and modernise this one-stop shop, to make it more welcoming to the public and become a remote workspace for public officials. Here, he provided details about the Public Service plan to strengthen not only the concept of remote working but for it to become more structured and integral to the Public Service.
Mr Cutajar said that with this development, as well as with the continuation of the hubs spread out throughout Malta, servizz.gov would be at the forefront of driving the second phase of the renewal of the Public Service, that of strengthening the back-end operations of departments to further improve the services they provided to customers. servizz.gov has been entrusted with coordinating the process of digitalisation within government departments making use of emerging technologies.
Mr Cutajar also visited the Paola and Birgu hubs where he had the chance to talk to the workers and the public present. He stressed that servizz.gov was committed to making it easy for everyone to access high-quality services 24 hours a day, all year round, from anywhere.
In almost 5 years, a third of a million customers have visited a servizz.gov hub. The hubs will continue to be strengthened so that even those who are less tech-proficient can benefit from a service of the highest level. servizz.gov is close to receiving one million phone calls on freephone 153, while, in three years, the servizz.gov website has seen almost 3 million hits and there have been replies to more than 40,000 emails. servizz.gov also offers more than 73 mservices for more technology-oriented customers.
In the coming days, servizz.gov will also be boosting online services utilising social media, Chatbot and Live Agent facilities.