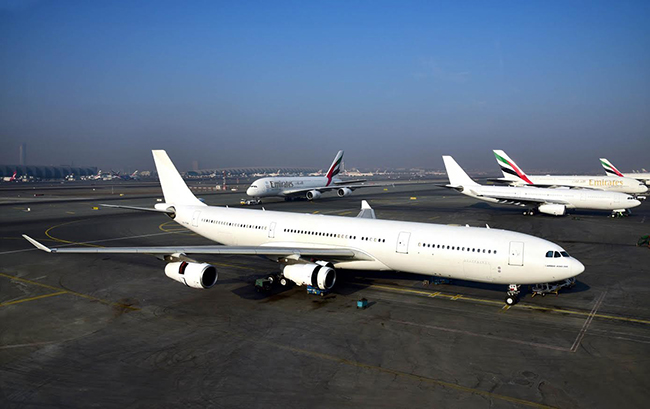 In line with its vision to offer a superior passenger experience and improve environmental performance through a modern and state of the art wide-body aircraft fleet, Emirates has retired the last Airbus A330 and A340 aircraft in its fleet from active service.
This makes Emirates the first and only airline in the world to operate a fleet of all Airbus A380 and Boeing 777 aircraft for its passenger flights.
Emirates recently retired A6-EAK from operational service. The aircraft was the last of the 29 Airbus A330 aircraft that had been operating as part of its fleet. Emirates has also phased out A6-ERN, the last serving Airbus A340 in the fleet which had joined the airline in 2004, originally manufactured in 1999. Since January 2015, Emirates has retired 18 A330 and 5 A340 aircraft from its fleet.
The retirement of older aircraft is balanced by the induction of younger, more modern aircraft into the fleet. This has resulted in Emirates operating one of the youngest fleets in the industry with an average age of 5.2 years. The two youngest aircraft in the fleet- Emirates' 85th A380- the first of thevnew generation A380 aircraft delivered in October 2016 and Emirates' 125th Boeing 777-300ER – are less than 2 weeks old. Emirates' fleet of all Airbus A380 and Boeing 777 aircraft will also have a smaller environmental impact as both aircraft types have better fuel efficiency and emissions performance than the retired aircraft.
For the calendar year 2016 Emirates will have taken delivery of 36 new aircraft – 20 Airbus A380s and 16 Boeing 777. This also includes the next generation Boeing 777-300ER aircraft – with upgraded business class seats and other features including a lower fuel burn ratio – to be delivered from November 2016.
Emirates is currently the largest operator of the Airbus A380 and Boeing 777 aircraft with 85 Airbus A380s and 160 Boeing 777s in its fleet. Out of the 234 aircraft worth over USD 112 billion that Emirates has in its order book, 150 will be the new Boeing 777X aircraft that will be delivered starting 2020. The aircraft will feature a range of passenger focused amenities on board including larger windows, higher ceiling, and a wider cabin in addition to being more fuel efficient than older aircraft.
Emirates operates daily scheduled flights between Malta and Dubai on a Boeing 777-300 aircraft.
Emirates flies twice weekly to Malta, on Mondays and Wednesdays, via Larnaca in Cyprus, and on Sundays, Tuesdays, Thursdays, Fridays and Saturdays the airline operates the Dubai – Malta route on a circular routing via Tunis in Tunisia. The return flight flies direct from Malta to Dubai.
For more information, visit: http://prez.ly/r1v
Photo. Retiring Airbus A 330