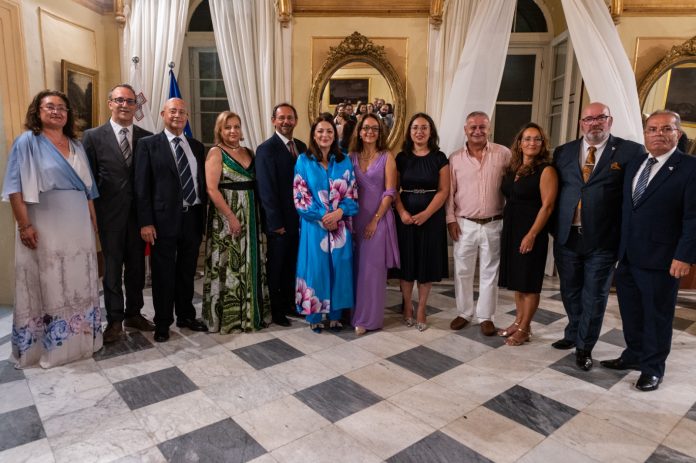 On the occasion of the 15th anniversary of its establishment, the Maltese Council for the Voluntary Sector (MCVS) launched a first-day cover and a commemorative stamp with special stamps that pay tribute to the work of the many volunteers and voluntary associations in our society.
These stamps celebrate the various different sectors in which voluntary associations are active, including inclusion, art, education and a sustainable environment. The first-day cover was presented to the Minister for Inclusion, Volunteering and Consumer Rights Julia Farrugia Portelli in an event at Palaz tal-Verdala, Buskett, after a presentation by Maltapost to the Council , at the Postal Museum in Valletta.
Minister Julia Farrugia Portelli explained how, over the years, the government continued to strengthen the voluntary sector in our country with an investment of around €14 and a half million in funds to voluntary associations. Funds that have been channeled into various projects and initiatives in our communities. She stated that today the Council represents over 1860 registered voluntary associations. The Minister ended her speech by thanking all the members who served in this Council as well as all those volunteers who work daily for the good of the volunteering sector.
Gertrude Buttigieg, Chairperson of the Council, said that the main theme chosen by the Council for the occasion of the 15th anniversary is that of giving voice and visibility to the voluntary sector. "For this first-day cover and also in the many initiatives we are organizing, the Council is always looking to continue to give more voice and more visibility that this sector deserves".
Mauro Pace Parascandalo, Chief Executive of the MCVS, said, "While we look back at 15 years of work done, especially if we see where we started and the beautiful history of this Council , we also look eagerly to the future in which we will continue to give the much needed support so that the associations and volunteers have a shoulder to lean on while they give their service to society."
Photos: MIVC.