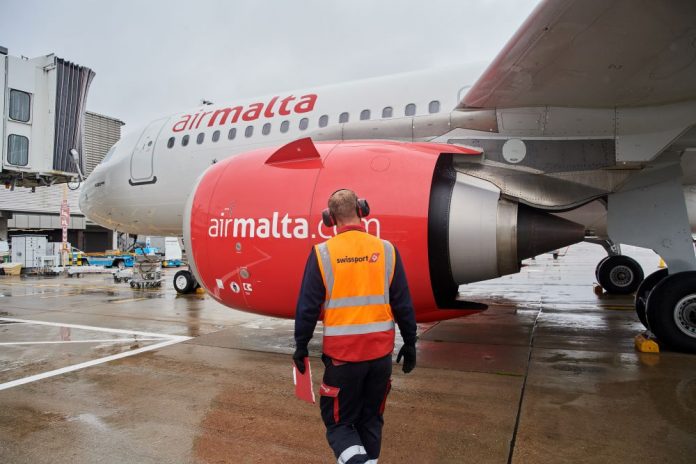 The contract welcomes Swissport's return to one of the world's
busiest airports.
Swissport will supply a comprehensive range of Ground Handling services including check-in, boarding, ramp and baggage from September 1st, with cleaning services being added from October.
Swissport already offers ground handling services within Terminal Two as well as
cleaning services to a wide number of airlines across the airport. Swissport will be supporting 16 flights per week, seven days a week during the summer and 14 flights per week during the winter.
Karen Cox, CEO of Swissport UK and Ireland said: "We are delighted that Air Malta has put its trust in us to deliver for passengers. This agreement will lay the foundations for Swissport's long-term presence at Terminal Four as we continue to grow our footprint at the airport."
"As the fourth busiest airport in the world, Heathrow plays a critical role in the aviation industry as a hub for international travelers and cargo operations. We are excited to see what opportunities our return to Terminal Four brings for our business and our dedicated teams on the ground."
Declan Keller, Chief Operations Officer of Air Malta added: 'I would like to extend a warm welcome back to Swissport at Heathrow's Terminal Four. This contract not only marks a significant step in Swissport's operational expansion but also represents a vital part of our shared progress and growth at Air Malta.
Our partnership with Swissport underscores our commitment to providing top-tier handling services and creating seamless experiences for our passengers. Being Malta's national airline since 1974, this contract will further enable us to serve the global community, further connecting them to the Maltese Islands.
Furthermore, Swissport's return to Terminal Four aligns perfectly with our mission of consistently improving our services, reinforcing our capacity to manage the needs of the many passengers we fly annually. Delivering these services efficiently means upholding the sterling reputation that Air Malta has gained over the decades.
We have full trust in Swissport's expertise and are thrilled to join hands with them in delivering our promise of high-quality service and great flight experiences. As we look to the future, we foresee exciting opportunities stemming from this collaboration, beneficial not just to our operations, but also to the multitude of passengers who choose Air Malta and Heathrow Airport every day.
We look forward to a successful collaboration with Swissport, one that will contribute greatly to the future direction and success of Air Malta.'