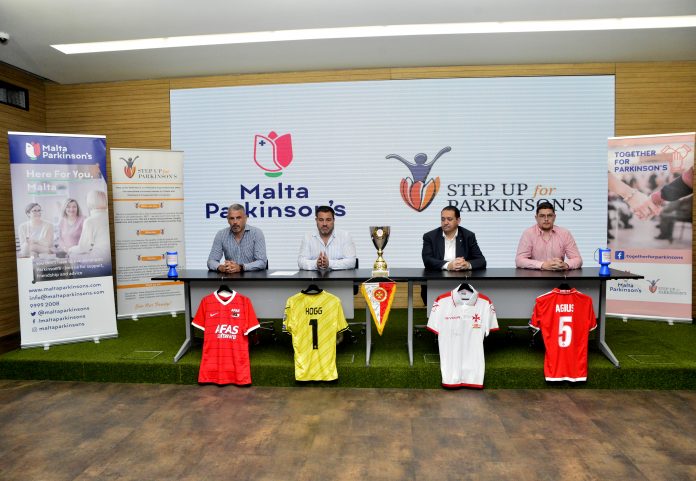 A triangular football tournament as part of the Sports for Parkinsons Campaign will be organised by the Malta Veterans Sports Association, next Saturday 30 th April.
Details were given today during a press conference held at the Malta FA Centenary Hall.
The tournament will be held at Zebbug ground and will be contested by the Veterans Malta Football Association, SVVN Nijverdal and Old Wilsonians Football Club.
The brains behind the campaign Adrian Casha spoke about an auction that is linked with this event whereas three football shirt are up for grabs to the best bidder. Football shirts include the AZ Alkmaar one (100 euro), Andrew Hogg Goalkeeper Shirt (150 euro) and the shirt that Andre Agius
used in the last official competition (14 November vs Slovakkia. 250 euro).
Details about the tournament were given by VMFA Secretary Chris Fenech and Vice President Stephen Wellman. There will be three games on Saturday evening and program is as follows:
17:30 Game 1: Malta vs SVVN Nijverdal
18:15 Game 2: Loser Game 1 vs Old Wilsonians Football Club
19:00 Game 3: Winner Game 1 v s Old Wilsonians Football Club
The South End Core will also be present on the day to support the Malta team and to decorate the stadium. SEC Frontman Dillon Mercieca said that the SEC's aim is to have a festive atmosphere however they are always ready to give a helping hand to a fellow NGO.
Victor Cuschieri on behalf of the nurses at the stadia presented a donation to top up the fund created by the Sports for Parkinsons Campaign.