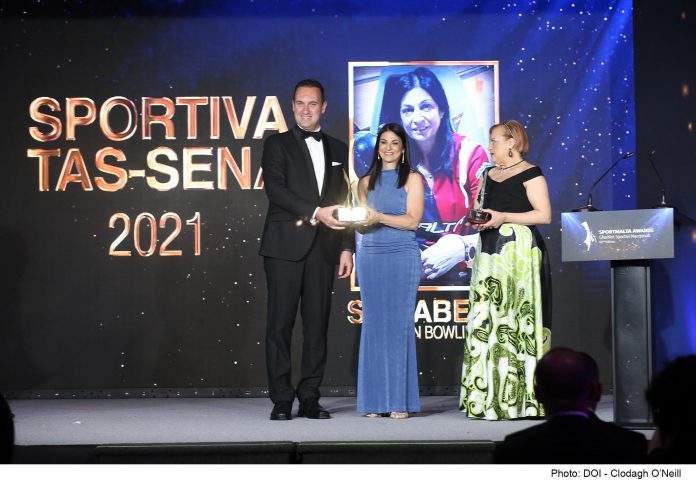 Neil Agius and Sue Abela are the Sportsman and Sportswoman of the Year at the 62nd edition of the Sport Malta Awards.
Sportsman of the Year is Neil Agius, while Sue Abela is Sportswoman of the Year.  The winners were selected from five finalists for each category in these awards. The final evening was also attended by AIPS Vice President Iannis Daras and the President of the Cyprus Association of Sports Journalists Erodotos Militdaus.
The Junior Male and Junior Female honors went to Jeremy Zammit and Tenishia Thornton respectively. Anthony Farrugia was awarded the title of Best Coach of the Year, while Bernard Vassallo is the Best Official of the Year. The Team of the Year is the U15 National Waterpolo Team while the People's Choice Award went to Neil Agius.
The Minister for Education, Sport, Youth, Research and Innovation, Clifton Grima, congratulated all the winners of this year's edition and also all those who made it to the finalists. "I am pleased to be with you for the fifth year, this time as Minister responsible for this sector," said Minister Clifton Grima. He added: "This shows the commitment of the government to raise the standard of sport in our country so that together with you and our work we can continue to achieve results not only that will honor you as sportsmen and teams, but also an honor for the name of our country ".
Minister Grima spoke f two events that will take place in Malta, the Special Olympics in a few weeks and a year later  the Games of the Small Countries. "Two events that will also continue to put our country on the world map of sport," said the minister.
During the evening, awards were also given to the two best athletes of the Special Olympics Malta and the honor of the Best International Activity of the Year. They were won by Rebecca Dalli and Jake Gatt for Special Olympics Malta while the Water Sports Association won the award for Best International Activity – the European Junior Artistic Championships.
The evening was also addressed by the President of the Sports Journalists Association Sandro Micallef and the Chief Executive of Sport Malta Mark Cutajar.
40 athletes, an official or a team divided into eight categories took part in this final. These finalists were voted in by 69 journalists who were members of the Sports Journalists Association.