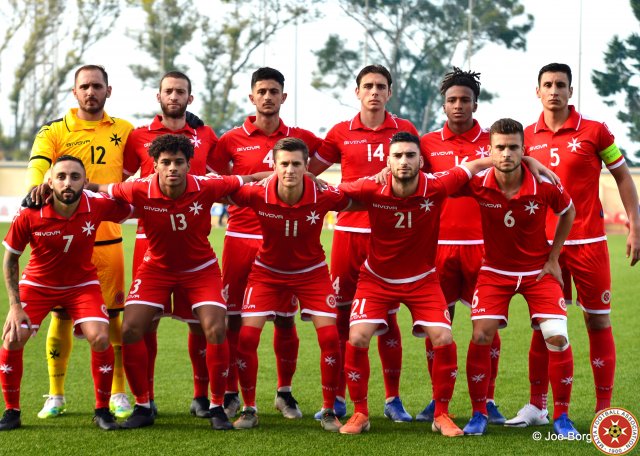 Romania, semi-finalists at the Under-21 Championships last year, displayed their potential today at the Centenary Stadium after beating the Malta U-21 team 0-3. Despite a resilient showing by the hosts, Romania proved too strong, living up to their status as challengers for top spot in Group 8.
Coach Silvio Vella, in his 38th match in charge of the Under-21s, welcomed back Paul Mbong, Jean Borg and Shaun Dimech from the senior national squad. The trio were awarded a place in the starting line-up, replacing Gary Camilleri, Myles Beerman and Aidan Friggieri.
Romania opened the scoring in the sixth minute. Dennis Man beat the offside trap and had little trouble beating Timothy Aquilina with a low shot. Four minutes later, Valentin Costache was inches short of tapping in the second goal after another precise attack by the visitors. In the 20th minute, Malta's most experienced player, captain Jean Borg, suffered an injury and was replaced by Carlo Zammit Lonardelli.
On the half-hour mark, Ayrton Attard had a good opportunity to level the score after a fine Malta attack. Wing-back Alex Satariano passed the ball back to Attard who entered the box after beating his direct marker but Romania goalkeeper Andrei Vlad blocked his shot. Thus was Malta's best opportunity of the match.
Two minutes later, Aquilina had to intervene to stop Valentin Mihaila's effort and in the 37th minute, the same Mihaila passed to Costache but his first timer was again saved by Aquilina.
In the 40th minute, Romania were awarded a penalty when Zammit Lonardelli was deemed to have brought down Dennis Man in the box. Costache made no mistake from the spot to give the visitors a two-goal advantage at the break.
The Romanians stayed on top in the second half with another goal scoring opportunity by Mihaila in the 51st minute. However, the fast striker missed target. Just after the hour, substitute Andrei Ciobanu's powerful 25-metre distance strike hit the woodwork.
In the 83rd minute, Romania added a third and final goal through defender Denis Hanut, who was the most alert at a corner action.
Malta
T. Aquilina, K. Shaw, Z. Grech, N. Pulis, A. Satariano, J. Borg (C. Zammit-Lonardelli 20), S. Dimech, A. Attard (D. Xuereb 84), J. Busuttil (M. Beerman 66), N. Portelli (A. Spiteri 46), P. Mbong.
Romania
A. Vlad, R. Oprut, V. Ghita, A. Chindris, D. Harut, D. Olaru (C. Itu 82), M. Marin, C. Casap (A. Ciobanu 57), V. Costache (G.Ganea 72), D. Man (G.  Cimpanu 82), V. Mihaila (A. Matan 73).
Referee: Gergo Bogar (Hungary)