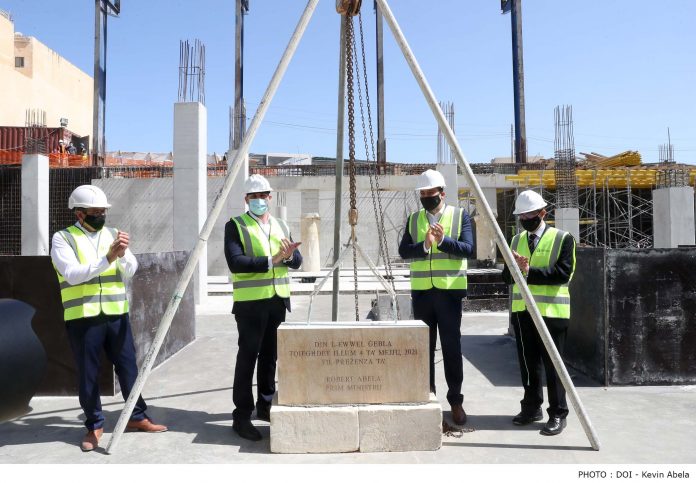 The Prime Minister Robert Abela and the Minister for Gozo Clint Camilleri attended the laying of the foundation stone of the new Aquatic and Sports Center in Gozo.
This massive and long-awaited project with a global investment of € 16 million, will see the construction of an Olympic-sized swimming pool and a number of new facilities, including gymnastics, basketball, badminton, squash, wall climbing, acrobatics, weightlifting, aerobics, yoga, martial arts and other facilities where other indoor sports can be played. In addition, the sports center will also be equipped with state-of-the-art facilities for all its users, including first aid rooms.
Prime Minister Robert Abela expressed his satisfaction with the progress of this project and how, for the first time, Gozo will have an aquatic and sports complex in the heart of the island. Minister for Gozo Clint Camilleri described this project as crucial for the sports field in Gozo while it will be a major source for economic growth on this island. This is expected to create new niches and attract foreign and professional athletes and groups to Gozo.
He mentioned how the Gozitan people will benefit from this project, while easing the burden that many Gozitan water polo athletes currently have, as they will have to cross to Malta every day to train. Minister Camilleri said the laying of the foundation stone means that substantial work has already been done in terms of excavation, shoring of the site and the surrounding area, as well as all the foundations. Here he explained that the structure of the complex, which is expected to be ready this summer, has now begun to rise.
Works on this center, which is spread over an area of ​​about 5,000 square meters, are currently in an advanced stage of infrastructural work on the construction of the swimming pool.