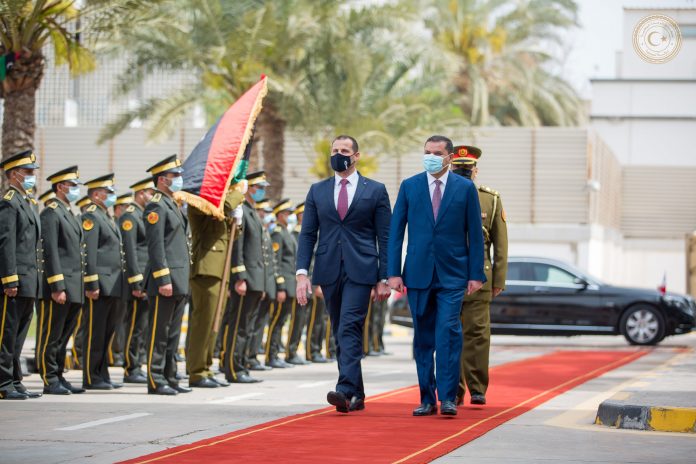 Prime Minister Robert Abela is leading a delegation to Libya for talks with top Libyan government officials, including Prime Minister Abdul Hamid Dbeibah.
The delegation discussed various topics of interest to both countries, including in the areas of economy, security and immigration.
In the meeting with Prime Minister Dbeibah, Prime Minister Roberta Abela pointed out how Libya and Malta remain important partners and here he expressed his satisfaction that Malta is reopening its embassy and consulate in the capital Tripoli. He explained that he looks forward to resuming direct flights between the two countries as the situation allows.
Prime Minister Abela spoke about how the Maltese Government looks forward to working with the Libyan government to get Libya back to normal as soon as possible. He reiterated how the Maltese Government will help Libya diplomatically for Libya to buy doses of the Covid-19 vaccine.
He explained the support for a Libyan-led, peaceful, strong and prosperous Libya.
"Libya living in prosperity and peace also means that the Mediterranean and Europe will live in prosperity as well," said the Prime Minister, who said that the Maltese Government believes that the international community should help and does not interfere in the process of rebuilding Libya.
In this context, said the Prime Minister, the Maltese Government will continue to deliver the voice of the Libyan people even in the forums of the European Union.
In Libya, the Prime Minister also met with President Mohammad Younes Menfi.
The delegation led by the Prime Minister included the Minister for Foreign and European Affairs Evarist Bartolo, the Minister for the Interior, National Security and Law Enforcement Bryon Camilleri, and the Minister for Foreign Affairs. Finance and Labor Clyde Caruana.
.