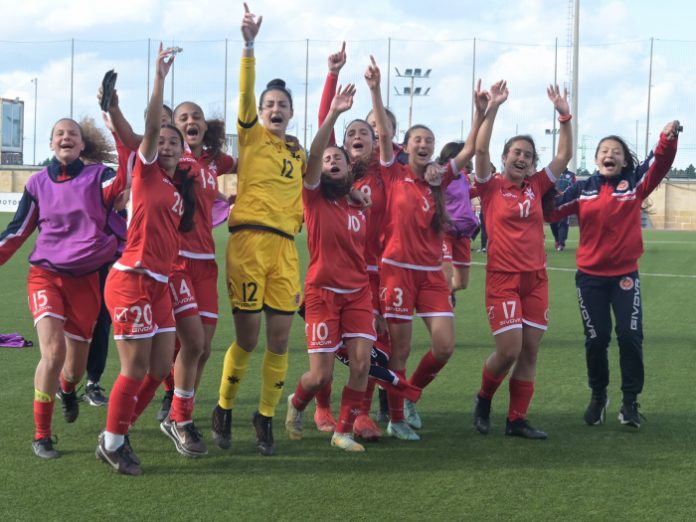 The Malta U16 girls team defeated the Faroe Islands on Monday afternoon to place second in this edition of the UEFA Development Tournament. They ended this adventure with 5 points, tied with Latvia, however Malta won the direct encounter. Slovakia who topped the table with eight points.
Sara Saliba of Birkirkara and Raiders Lija captain Lexine Farrugia scored once in each half to give Malta its first win in the tournament's regular-time portion.
Coach Kathleen Saliba altered Malta's starting lineup for the third straight game. This is needed to follow the UEFA Rules of such development tournaments. These rules are set up to place more of an emphasis on player development than on the competition itself.
Lexine Farrugia once again served as captain. Birkirkara star Sara Saliba was given the start up front.
The two sides played an end-to-end battle in the early minutes of the game, but they did not make the most of their possession.
Saliba nearly gave Malta the lead in the 20th minute, but her effort was blocked into the corner after gliding past the Faroese goalkeeper.
The Nordic side replied through Eyda Dalheim whose close-range effort went inches wide from Maya Muscat's goal.
On the half-hour mark, Malta scored as Saliba beat the Faroese goalie after Farrugia set her up.
Five minutes before half time, Dalheim, threatened once more with a header that sailed past Muscat's goal.
The Maltese side doubled their lead through captain Farrugia who fired a long-range effort who the Faroese goalkeeper failed to block before rolling into the net.
The Faroe Islands pulled one back through Alda Petersen who capitalised from a left-sided cross to beat Maya Muscat from inside the small area.
MALTA
M. Muscat; F. Bartolo (73 A. Galea), L. Farrugia (68 A. Vassallo), A. Micallef, E. Micallef (46 L. Azzopardi), T. Scicluna, I. Abela (58 L. Frendo), N. Attard, L. Calleja (68 N. Celeste), S. Francalanza, S. Saliba (73 M. Gauci).
Coach: Kathleen Saliba.
FAROE ISLANDS
I. Rasmussen (35 R. Streym); M. Ostero, R. Reginsdottir, M. Laursen (80 B. Poulsen), L. Djurhuus, A. Jorginsdottir, S. Hansen, E. Dalheim, H. Mikkelsen, P. Geyti (35 A. Petersen), B. Mohr.
Coach: Eydvor Jakobsen.
Source: MFA