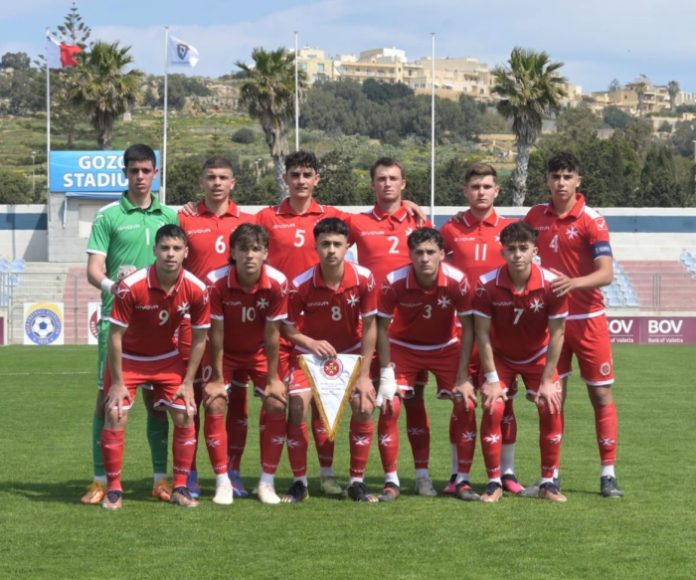 Earlier today, the Malta Under-19 team played their third Friendly of 2023, in preparation of the UEFA U19 European Championship, to be held in Malta in July.
The match was played under perfect weather conditions in the Gozo Stadium, one of the four venues to be used for this final tournament. The Albanians, who paraded a team made of mostly of foreign based players with clubs such as AC Milan, Udinese, Panathinaikos, Queens Park Rangers, Brescia and Genoa, beat the hosts 2-0.
A flattering result for the visitors, who were surely the more effective team, taking their chances well. Especially in the second half, Malta dominated in terms of possession, something to build on in this period.
The hosts found it hard to find their feet in the first half and received an early setback when Gent Elezaj hit home from the edge of the box on 12 minutes, a grounder deflected by Jake Vassallo which surprised Luca Camilleri. It was practically the visitors' only chance before the break as gradually the hosts started the threaten forward. Around the half hour mark, Alfie Bridgman was sent through on the right wing, beating his marker but found little support up front with eventually the ball being cleared. In defence, Malta stood well, keeping the talented Albanians at bay.
Malta started well after the break and were unlucky on 51 minutes when Bridgman's header hit the crossbar from an accurate Andrew Borg cross from the right. Two minutes later, Tristan Viviani was sent through but his pass did not reach Bridgman in another promising attack for the hosts. On 55 minutes, Tomas Kiri misjudged a long Sven Xerri pass but the Albanian goalkeeper somehow managed to save before the goal line. On 71 minutes, a Benjamin Hili cross-shot from the left flank nearly surprised Kiri, who saved in extremis. On 82 minutes, against the run of play, Albania doubled thanks to scorcher by Ardit Nuredini, which was Albania's their only shot on target after the break.
On Sunday morning, the two teams meet again to play a second Friendly, this time at the Tony Bezzina Stadium, kick off 11h.
Malta
Luca Camilleri, Braden Flannery (Ivin Farrugia 63), Jake Micallef, Jake Vassallo, Zven Xerri, Benjamin Hili, Lucas Scicluna (Lucas Caruana 70), Andrew Borg, Tristan Viviani (Bjorn Buhagiar 83), Brooklyn Borg (Nathan Cross 63), Alfie Bridgman (Kian Leonardi 70)
Coach: Antonio Jose Mendes 'Toze'
Albania
Tomas Kiri, Lindon Ajeti (Orgito Ruci 46), Elton Fakaj, Ervin Bashi, Ardit Nuredini (Ermal Meta 86), Arlind Kurti, Erald Krasniqi (Franc Rabeta 86), Gent Elezaj (Andi Gjoka 86), Smail Kadrijaj (Adijat Seferi 73), Lorent Talla (Ersi Zaganjori 63), Skerdi Xhixho (Samuele Kasa 63).
Coach: Armando Cungu
Referee
Joseph Scerri (Malta)
Photo:Stephen Gatt