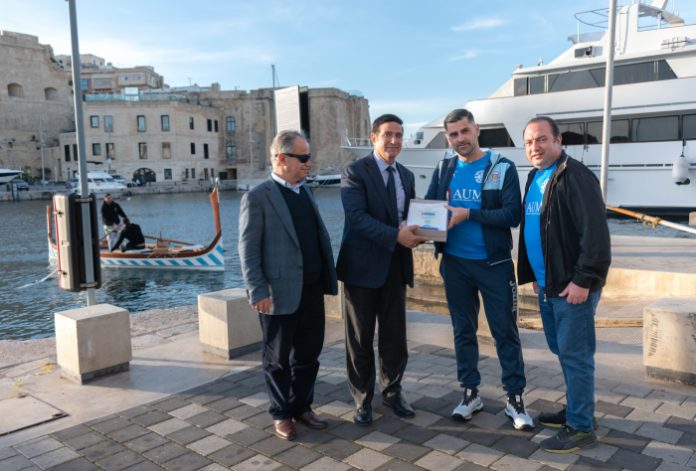 The American University of Malta is again an official sponsor of the Cospicua Regatta Club after agreeing to provide financial support to the local sport organisation.
To mark this support, President Dr. Michel Najjar, Vice President Dr. Oussama Jadayel and Project Manager Eng. Raeid Ebaid visited the Cospicua Regatta premises to meet the committee and members of the club.
During the visit, the AUM administration was provided with a tour around the
premises, whilst meeting different members of the club. The members of the club showed their genuine appreciation towards the university, for supporting the club during the past years.
The American University of Malta and the Cospicua Regatta Club mutually expressed interest in further collaboration towards the Traditional Regatta sport. Both entities are to explore ways how to collaborate in future projects to ensure the sustainability of this traditional sport in the future.
The President of the American University of Malta, Dr Michel Najjar expressed that the American University of Malta is a proud supporter of the community NGOs, events, and the Maltese traditional and historical heritage.
"We are proud to serve from Malta. The country is full of rich history, tradition, and beauty. As major stakeholders in the community, we feel that we need to support the community as much as possible. We look forward to continuing to enhance this collaboration and to launch more initiatives in the future. My sincere best of luck to the Cospicua Regatta club for the next race!"
The Secretary General of the Cospicua Regatta Club, Mr Darren Scicluna said,
"On behalf of the Club's Administrative Committee and all our athletes, I would like to thank The American University of Malta for not only being one of our main sponsors throughout these last 6 years, where our Club won the majority of Regatta races, but also for helping the Community of our beloved City in many different ways."
At the end of the visit, a token of appreciation was presented to the AUM
Administration by officials at the Regatta Club, marking the third year of support by the University.