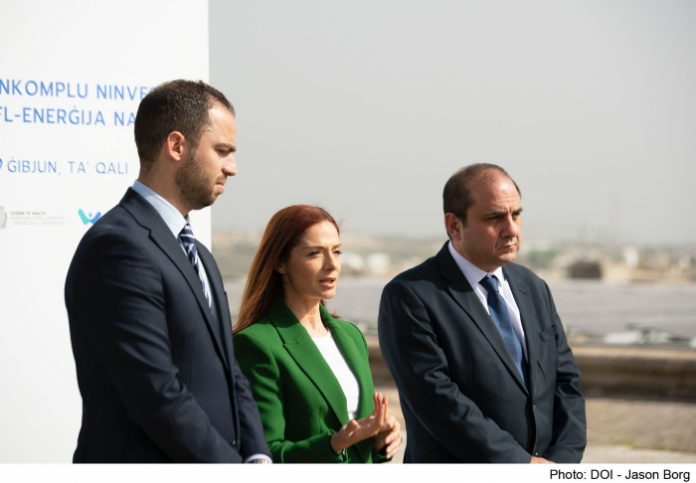 A new solar farm on the roof of the Water Services Corporation's reservoir at Ta' Qali is generating clean electricity for 365 households.
Minister for the Environment, Energy and Enterprise Miriam Dalli visited this €1.6 million public-private green investment by the Water Services Corporation and the Malta Developers Association.
Spread over an area of 6,319 square metres on one of the Corporation's largest reservoirs, this new solar farm includes 2,198 photovoltaic panels with a total capacity of one megawatt. By generating electricity from solar energy, it is reducing carbon dioxide pollution by 296,000 kilogrammes every year.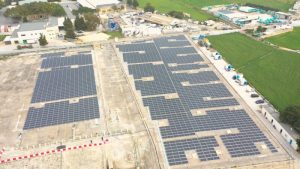 Minister Miriam Dalli explained that through this collaboration with the Malta Developers Association and with other similar investments, Water Services Corporation is turning the large spaces on top of its reservoirs, which had been left vacant for many years, into a green investment opportunity, to improve the sustainability of its operations, while helping Malta attain its climate objectives.
"These projects contribute to the Government's vision to keep incentivising private investment in renewable energy in Malta and Gozo, as part of our environmental plan for climate neutrality by 2050. While we continue to ensure energy price stability for families and businesses despite international pressures, we also need to encourage increased investment in renewable energy," said the minister.
She reminded that earlier this month they launched the second major clean energy scheme in less than a year, to help businesses invest in renewable energy installations such as this one. She continued that these two schemes alone are allocating up to €104 million in Government support to the private sector in the next 20 years.
The new solar farm at Ta' Qali forms part of the Water Services Corporation's plan to gradually neutralise the carbon footprint of its operations. The Corporation already installed similar solar farms on its reservoirs in Qrendi, at the Fiddien area of Rabat and at Ta' Cenc, in Gozo. Together with the new installation at Ta' Qali, these solar farms add up to a total capacity of 4.83 megawatt peak, generating enough clean electricity for 1,760 households and reduces 3,100,000 kilogrammes of carbon dioxide every year.
The Chief Executive Officer of Water Services Corporation, Karl Cilia said, "we take our responsibility towards the environment very seriously. We installed yet another solar farm on the roofs of our reservoirs, not only to reduce our carbon footprint but also to provide clean energy to our community. These solar farms are a testament to our commitment to sustainability and another step in our journey towards a net-zero utility."
Malta Developers Association President and Treasurer Michael Stivala and Alfred Camilleri, along with the Head of the Association's Renewable Energy Section Mario Cachia, participated in this visit whereby they gave further details on this new renewable energy installation.
Photos: DOI/MEEE