By means of an investment of €1.6 million, the St Paul's Bay bypass was reconstructed and made safer as part of a major intervention. This was announced by Minister for Transport, Infrastructure and Capital Projects Aaron Farrugia, together with the architect of the project Gabriella Anne Curmi and Head of Implementation Unit within Infrastructure Malta Architect David Vassallo.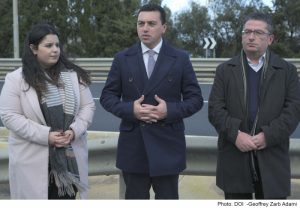 The works commenced after extensive stretches along both carriageways had started to exhibit signs of wear with cracks and deformation on the surface. Various parts of the existing footpath were also reconstructed.
The minister reiterated that over 75% of the residential roads that were promised, have now been completed; that is, 1057 out of the 1400.
Minister Farrugia also spoke about Infrastructure Malta's work plan with local councils for residential roads, through which approximately 60km worth of residential road-building projects will be implemented per year. Apart from this plan, they are also focusing on important upgrades in arterial and distributor roads like this bypass.
"This investment in the St Paul's Bay bypass was made to reconstruct and improve safety on this main road. This road sees volumes of traffic every day as it is used not only by residents who live in the North but also by those who are driving to Ċirkewwa from the centre of Malta, and by cyclists. We are seeing that Infrastructure Malta continues to invest to improve arterial roads like this one throughout the whole country," concluded Minister Farrugia.