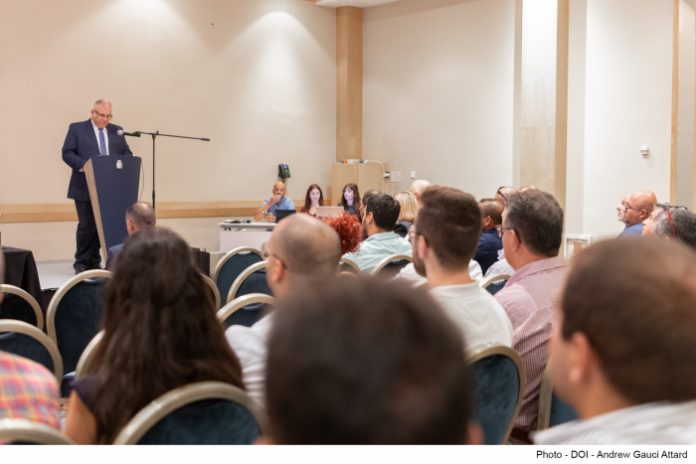 The Plant Protection Directorate (PPD), in collaboration with the European Food Safety Authority (EFSA), organised a workshop on pest surveillance specifically related to a statistical survey based on the risk of Tomato Brown Rugose Fruit Virus (ToBRFV). These workshops are of great importance in order to assist and guarantee food safety in our country.
The Plant Health Monitoring Team within EFSA is involved in the production of reports with the aim of assisting EU Member States to carry out efficient pest surveillance. One of the reports recently published by EFSA was related to the ToBRFV, a virus which was identified to be present in Malta. The production of tomatoes is very important for Maltese agriculture. Thus, this workshop was organised with the aim of providing relevant information to all interested parties and to further strengthen the collaboration between PPD and EFSA.
In his opening speech, the Minister for Agriculture, Fisheries and Animal Rights Anton Refalo, stressed the importance of the tomato sector for Maltese and Gozitan farmers. He stated that as soon as the virus was identified in Malta, the Government supported farmers by launching a financial aid scheme through which twelve farmers, who were affected by this virus in their produce, benefitted from this scheme. Minister Refalo emphasised that the Government will continue to be of support in order to safeguard the work of farmers and ensuring that local produce remains the first choice for Maltese and Gozitan consumers.
Permanent Secretary Sharlo Camilleri stated that the Ministry considers that maintaining an open dialogue with society and stakeholder is fundamental to ensure the success of all sectors within the agricultural community. He continued that "in the case of ToBRFV, we have seen the damage such a virus has caused and the impact this has had on producers and professional operators." He claimed that through this workshop the PPD could provide the most up to date information to ensure effective surveillance strategies for the findings and identification of the ToBRFV.
Mr Sybren Vos, EFSA Team Leader – Plant Health Monitoring Team, explained EFSA's work which covers the entire food chain – 'from farm to fork' – and is one of the entities responsible for food safety in Europe. He thanked the Plant Protection Directorate for their continuous collaboration and stated that it is an honour for him to contribute to this important event.