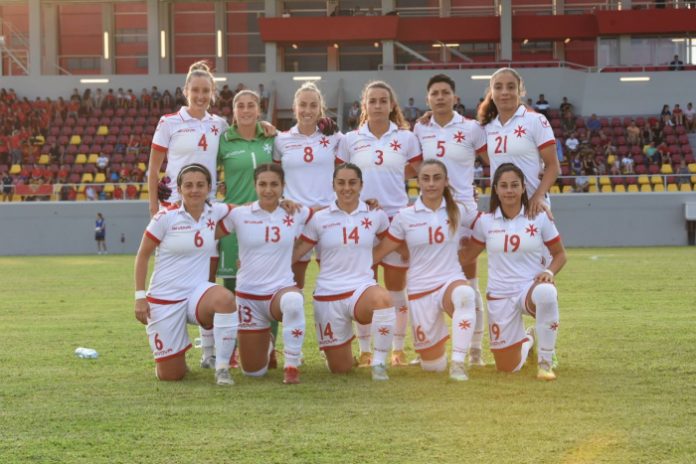 A strong showing by the Malta women's national team as they end up their 2023 FIFA Women's World Cup qualifications with an impressive 2-0 win away at Montenegro.
First-half goals from Maria Farrugia and captain Emma Lipman, her first for her country, were enough to hand coach Mark Gatt a victory in his final game in charge.
As a result, Malta finished their campaign with seven points – their best record in the new format of this competition as the Montenegro win follows the 2-2 draw against Bosnia-Herzegovina and the 2-1 win in Baku, against Azerbaijan.
Coach Gatt made a trio of changes for this game with Maia Debono and Ann-Marie Said starting as fullbacks while Dorianne Theuma was deployed behind the forward.
Montenegro, on their part, were looking to clinch the three points as they were still hoping to finish second and secure a play-off spot. However, they failed in their quest as Bosnia-Herzegovina will be part of the six teams that will play in round 1 of the European play-offs for next year's tournament.
Montenegro had the first chance of the game through captain Jasna Dokovic whose freekick went wide over Janice Xuereb's goal.
Malta replied through Haley Bugeja who after beating her marker, tried a curling effort but could not find the target.
Moments later, Dorianne Theuma tried her luck with a long-range effort but once again the Maltese girls could not beat Montenegro's goalkeeper.
Malta continued to threaten Montenegro and this time it was Maria Farrugia's turn to attempt a shot from the edge of the area just to be deflected into corner.
Bugeja came close to put Malta ahead when her towering header went inches over the bar, on 20 minutes.
The Maltese girls made their pressure count when Farrugia pounced on defensive mistake before firing past the Montenegro goalkeeper to break the deadlock.
The goal came as a cold shower for Montenegro who were desperate to find the net with Jelena Karlicic trying to rally her team mates with a strike from the edge of the area but could not beat Janice Xuereb.
Nonetheless, it was Malta who scored the game's next goal just before half-time. Captain Emma Lipman combined with Bugeja before the former squeezed the return ball into the near post for her first international goal.
Rachel Cuschieri almost extended Malta's lead but could not capitalise from point-blank range as the Maltese led by two goals at half-time.
At the interval, Montenegro made two offensive changes in an attempt to change the fortunes of the game.
Karlicic had a close-range shot blocked before substitute Nada Durdevac sailed an effort from outside the penalty area over the bar.
Janice Xuereb came to Malta's rescue when she denied a Dokovic's well-taken free kick from the edge of the area as Montenegro were looking to pile the pressure on the Maltese.
The Birkirkara goalkeeper denied Durdevac when Montenegro's number 7 hit a first-timer but Xuereb was alert to avert the danger.
In the closing stages of the game, Brenda Borg almost found a third for Malta just to be denied by the crossbar from the penalty area.
MONTENEGRO
Krstovic (46 A. Kalac); A. Popovic, M. Saranovic, T. Malesija (46 N. Durdevac), J. Djokovic, M. Desic, J. Karlicic, J. Vujadinovic (46 A. Janjusevic), J. Saric, H. Bozic, D. Dukic (78 N. Cakovic)
MALTA
Xuereb; M. Debono (46 N. Sciberras), S. Farrugia, C. Zammit (58 A. Sultana), A. Said, E. Lipman, S. Zammit, M. Farrugia, D. Theuma, R. Cuschieri (58 B. Borg), H. Bugeja
Referee Kirsty Dowie (England FA).
Scorers Farrugia 28, Lipman 45.
Yellow cards Saranovic, Farrugia, Popovic
Report and images: MFA