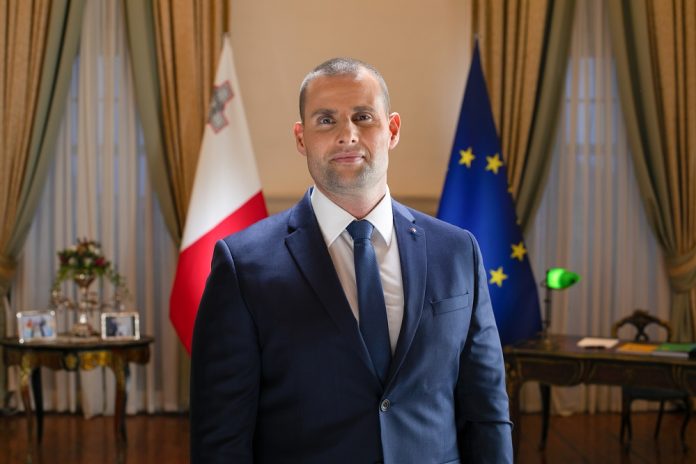 Another year is over and the global fight against COVID-19 is still ongoing.
Yet 2021 presented us with hope for the future as we started to emerge from the harshest and hardest days of the pandemic.
And as a result of our efficient and effective vaccine rollout programme, we were able to experience what we call 'normality' in our everyday lives once again.
Looking forward to 2022, we have to work hard to continue building on what we achieved thus far, notwithstanding the challenges we will undoubtedly face along the way.
What is encouraging, however, is the fact that in various areas and sectors, we are better off than we were before the pandemic: we have the lowest unemployment rate in history; the lowest number of people on social benefits; and in parallel, the highest rate of homeowners, ever.
But we did not foresee these significant achievements at the start of the pandemic two years ago. At that time, we were actually fearing the worst. Yet, after working together in a spirit of cooperation and mutual understanding, we managed to achieve these positive results.
Moreover, in recent months we observed that investment levels and the rate at which our economy is growing are both higher than they were pre-COVID.
Foreign experts are indeed saying that, in 2022, Malta's will be the fastest growing economy in Europe. All the while, helping those in need, including pensioners and individuals with special needs, was and will remain a priority for the government.
I am confident that thanks to the will of our enterprises and the commitment of our hardworking citizens, we can not only maintain this momentum, but achieve even more. Even, I believe, in spite of any adversities and challenges which will come our way.
However, to make this possible, the government is determined to continue taking the necessary decisions for our country to move forward, with consultation as a key part of this process.
The bold and courageous decisions we have taken so far must continue to be taken without undue delay. This approach allowed us to maintain price stability on local prices for energy, fuel and gas, despite mounting international pressure.
It is imperative however that, in order to continue moving forward, we must not be let our guard down in the face of COVID-19.
We all have an important part to play. First and foremost, we must all get vaccinated against the virus. I urge one and all to come forward and take the vaccine, with the booster vaccine now also available.
I also encourage parents to vaccinate their children according to the guidelines from the health authorities.
The vaccine is fundamental for us to keep our society healthy.
The vaccine will also allow us to keep the wheels of the economy turning and maintain our social and cultural activities, which are so important for the mental health and overall wellbeing of the community.
And whilst our efforts to mitigate the pandemic will continue, as a country, we must collectively address a new priority: the environment and our quality of life.

Climate change is a global threat, and we have already started to witness the ill effects of this phenomenon.
At COP26 a few months ago, we agreed to clear and concrete commitments to contribute to the global fight against climate change.
We may be a small state, and a low emitter in comparison to larger countries, but Malta will do its part as required.
In fact, I very much look forward to seeing the results of the greenest incentives we have ever introduced – both to improve overall air quality and also safeguard the core of our towns and villages.
Hence, our resolve in 2022 is to reinforce our efforts to improve the environment in which we live.
Thus, allowing us to breathe cleaner air, have more open spaces for the community to enjoy, and ensure smarter planning methods.
We are not taking the easy road, as a shift in mentality is required for us to move forward. We must understand that in an effort to deliver a better future for our children, we need to take the right decisions now.
Recent years have shown that as a people, we are ready to embrace change.
And I truly believe that if we continue working together, as Gozitans and Maltese, we will continue to be successful.
Our people expect the highest standards. And rightly so.
As Prime Minister, I have also addressed the legal frameworks of various sectors to improve our standards even further. Yet, in addition to this, every one of us must be ready to adapt our lifestyle to abide by these standards.
Some decisions may be hard, or perhaps they may even hurt, but I will continue taking these decisions, as I have done before, with the national interest at heart.
There is one change that I would really like to see next year; that is, how we act with one another.
Unfortunately, we still see a lot of hate speech, especially online. If there is any resolution that we should have in place for 2022, it should be to stop hate speech by setting an example and not engaging in tit-for-tats.
There should be no space for hate in our hearts, in what we write, and in how we behave.
We can change laws and enforce law and order, but the real power to stop hate speech lies in each and every one of us.
I am stressing this point more than ever before, as the reality is that next year the government mandate will come to an end, and the public will be asked to vote in a general election.
The people's choice must be respected, and debates on thoughts and ideas must not allow for personal attacks.
We should use our words to enhance unity, not division. Taunts and insults will not get us anywhere. Let us use our ideas to build a better and brighter future for our country.
I am truly optimistic that our country will continue moving forward steadily, as a fair and ambitious society that addresses challenges and creates opportunities. We will get there as long as we work together in a spirit of unity.
The pandemic demonstrated how we are indeed stronger when we stand united.
After all, the best qualities of the Gozitan and Maltese people are those that we have been witnessing recently: solidarity, a big heart, and pride in everything we stand for as Maltese and Europeans.
Let us keep these values alive all throughout the year.
On behalf of the government, Lydia and Giorgia Mae, I send my very best wishes to all Gozitans and Maltese for a happy and prosperous new year.
Link to footage: https://we.tl/t-Fas7J5p3Sr
Photo: DOI