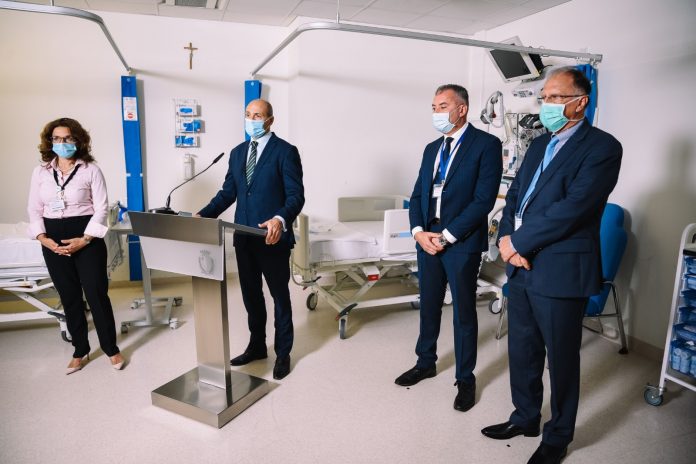 Deputy Prime Minister and Minister for Health Chris Fearne has inaugurated a new specialist ward at Mater Dei Hospital to accommodate patients in need of more intensive care after or before a major operation.
Patients in the Surgical High Dependency Unit will need more care than a normal ward, but not as much as is provided in the ITU.
"This ward will be allowing us to perform more major operations, there have been cases in the past years and months where operations had to be cancelled because the patient after the operation will need intensive care and there is no place for the ITU as it will be taken with more urgent cases, therefore this ward will help to enable these patients to be treated. This ward also gives reassurance to the team of surgeons at Mater Dei who know that after the operation their patients will have a ward and a dedicated team of people to look after their needs. It is also important as today we are at a point in the pandemic where we are recovering from the surgeries we lost in the previous years and months so that we could take care of patients with Covid-19 especially those in the ITU ", said the Deputy Prime Minister.
The booster dose vaccination program is progressing well
Meanwhile, giving the latest developments regarding the pandemic, the Deputy Prime Minister said that 96% of the elderly in old people's homes and 71% of those who are immunosuppressed have been given the the booster dose of the vaccine.
Fearne noted that the booster dose is working well as COVID-19 cases in nursing homes have dropped dramatically. He announced that from the beginning of December the booster dose will be given to health care workers, carers working in old people's homes, pharmacists working in the community, people living. in institutions as well as teachers.
The Deputy Prime Minister also announced that the vaccination certificate will be issued to those Maltese residents who have received the first dose of the vaccine in another European country and the second dose of the vaccine in our country.
On the use of masks by students in schools, the Minister for Health said that during the November holidays the data on positive cases of COVID in schools will be analyzed so as to it will be decided whether masks in classrooms should cease to be compulsory. On positive cases in schools, the Deputy Prime Minister said that the contacts of positive children can be quarantined for seven days if children and parents are vaccinated.
Photos: MFH