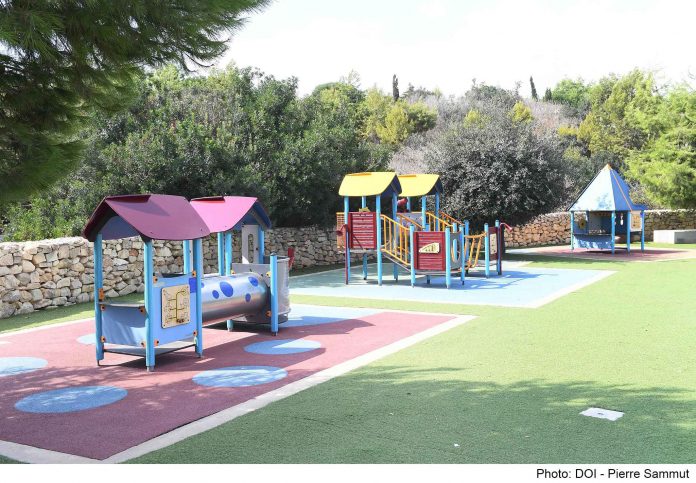 €250,000 worth of work have been invested in the completion of phase one of the Family Park in Marsaskala. The work was carried out by Parks Malta, as announced by Minister for Energy, Enterprise and Sustainable Development Miriam Dalli.
Minister Dalli visited the first phase of completion together with Director of Parks Malta Adrian Attard.
The completion of the first phase of this project, is part of a series of others to be implemented at this park. This phase included maintenance work on the existing furniture at the park, including on the largest play structure which has suffered a substantial amount of vandalism. The maintenance work carried out also included work on the outdoor gym, the installation of new furniture at the park, as seen with the maintenance carried out on a total of 15 benches and roofs. A five-a-side pitch has been through an intensive maintenance, and the area surrounding the pitch has been safeguarded.
Restoration work has been carried out on the rubble wall and the surveillance of the park has been improved, as 23 new cameras have been installed. Additionally, maintenance work was carried out to restore the fountain, which will also cater to maintain the rainwater storage in a reservoir. The water system has been restored which will be functioned within the fountain.
An area of 800m2 dedicated to dogs has been relocated, which is larger than the previous area and now it is divided into different areas, to cater for large and smaller dogs. This area is equipped with lights, water service, benches and games made from recyclable material.
The previous area, which was dedicated to dogs now will serve as a new picnic area. This space can also be used for educational sessions.
Minister Miriam Dalli thanked Parks Malta for its work while stating that, "This project will offer more recreational opportunities", said Minister Dalli.
"We often talk about the importance to take care of our health – both physically and mentally. In order to do that, we need to have open spaces on where families can spend time together. As today we are seeing the completion of the first phase of this project, thanks to Parks Malta – we will continue developing this park to be more accessible and offer more recreational opportunities for residents and also the general public", continued Minster Dalli.
"Today we are seeing the completion of the first phase of this project. In the coming months, Parks Malta is committed to continue developing this project so that once finalised it can be enjoyed by the public", said Adrian Attard.