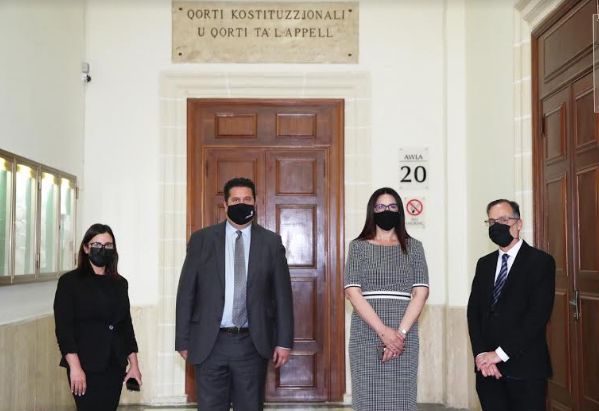 Minister Edward Zammit Lewis met with the workers and judges of the Courts of Malta. This was the minister's first visit to Eunice Grech Fiorini, who will take over as chief executive of the Court Services Agency with effect from May 2021.
In his visit, the minister pointed out that the work in the courts during the pandemic continued. The main goal, even during the pandemic, remained access to the justice system. In Malta, the Court has remained open, always with respect to court workers, judges, citizens who use the service and legal professionals. Technology has also helped guarantee access to justice through a process of full digitalisation of the courtrooms. New methods have been implemented of, among other things, hearing cases and bringing court documents online. Legal aid services have also been strengthened to ensure that every citizen beyond his or her financial means has access to worthy representation in the courts.
Minister Zammit Lewis said that this is his first official visit to the new chief executive, and the fact that this important role in the Court Agency will be occupied by Ms Grech Fiorini, "confirms how much this government believes in equality and that women should be at the forefront of decision-making in any sphere of life." He pointed out that there is equal gender representation in the judiciary and administration.