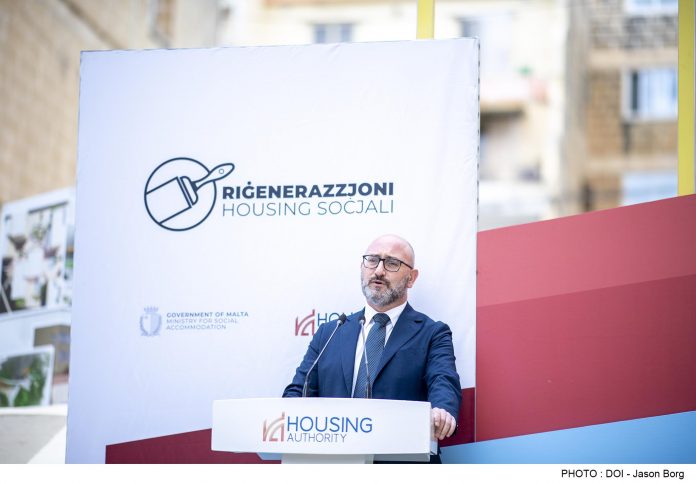 The government will be regenerating three areas in the vicinity of social housing sites which cover 6,000 square meters of open spaces through European funds.
Tenders for these projects were launched at a press conference by Minister for Social Accommodation Roderick Galdes, during which he explained how these projects will be prioritising the creation of open spaces, the embellishment of the areas, including the planting of new trees, and the improvement of accessibility.
The total investment will exceed €2 million. The targeted areas for this project are blocks E, F, G and H in Triq Xemxija and Triq il-Jum in Marsa; blocks R, S, U, V in Triq Anzalor and Triq iċ-Ċinerarja in Santa Luċija, and blocks B2, B3, B4 and C1 in Triq id-Dawr, Triq il-Planeċ, and Triq l-Istiratur in Mosta.
"My Ministry's portfolio is not only focused on creating new social accommodation, it is also focused on providing a better quality of life to the residents living in existing social housing estates. Open spaces will lead to a better environment. Interventions shall also be carried out to improve accessibility from one area to another in the whereabouts of these sites, in addition to the installation of new lifts in the block."
The projects will also include new paving and landscaping together with the installation of new benches, lampposts and other related accessories. These spaces, as well as the surrounding blocks, will be complemented by a carefully planned design, and will be accessible to everyone, including people with mobility issues such as wheelchair users.
"This will not only revitalise these areas, but will also improve the quality of life of the residents. This is testament to the fact that our housing policy is greatly focused on the needs of the people," concluded Minister Galdes.
Parliamentary Secretary for European Funds Stefan Zrinzo Azzopardi said that, "These works form part of a holistic plan for the regeneration of social accommodation which amounts to around €10 million in European funds. The project launched today will benefit approximately 360 families. We are providing a new lease of life to this building, leading to a better quality of life for all those living in these apartments and the surrounding area."
Parliamentary Secretary Zrinzo Azzopardi concluded by saying that, "Currently, there is another ongoing project related to social accommodation which is also financed through European funds, forming part of the holistic regeneration of the lower part of Valletta. These projects are proof that this government is close to its people and is always there to listen and act accordingly."