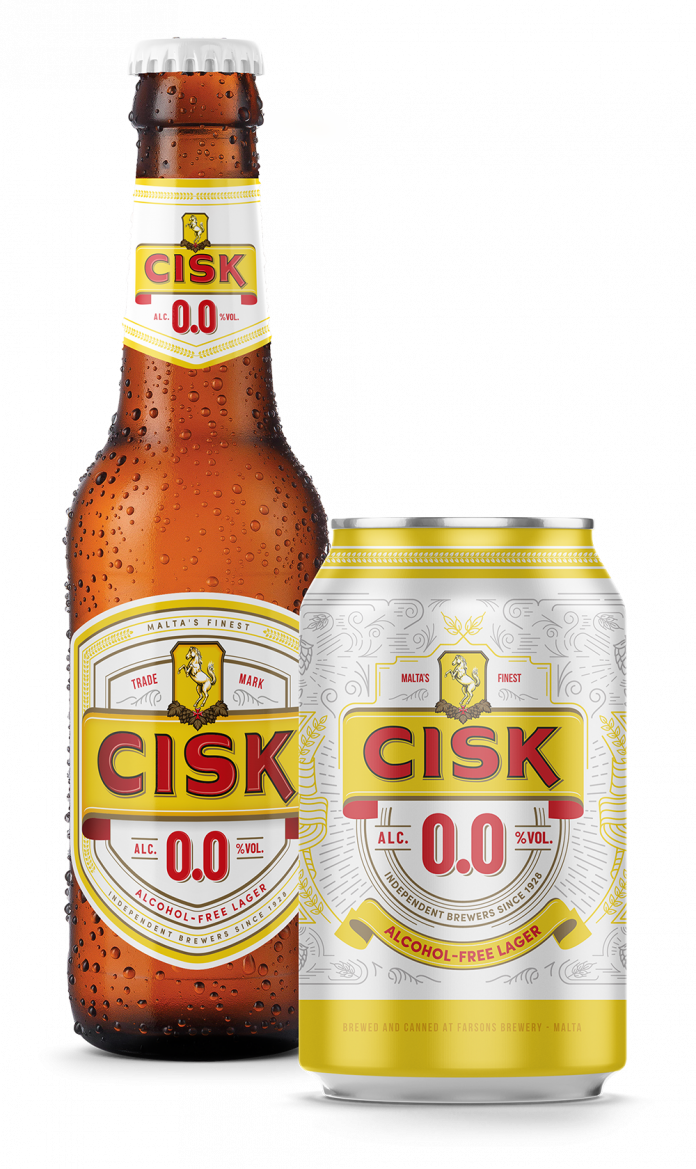 Farsons Brewery, brewer of award winning Cisk Lager, is proud to launch a new addition to its extensive beer
portfolio. Cisk 0.0 is an alcohol-free lager for those consumers who wish to limit their alcohol consumption but still want to enjoy a great-tasting beer.

"Healthier lifestyles and a greater awareness of the risks associated with excessive alcohol intake is resulting inconsumers changing their attitude towards alcohol consumption," commented Ms Susan Weenink Camilleri, Head of Sales and Marketing at Simonds Farsons Cisk plc. "The alcohol-free beer market segment is growing rapidly as consumers are increasingly looking to make more positive lifestyle choices without compromising on taste. Cisk 0.0 is an alcohol-free lager with a distinct and well-balanced flavour and the pleasant bitter notes normally associated with its mother brand Cisk Lager."
Cisk 0.0 alcohol-free lager is brewed using the same traditional and natural ingredients as Cisk. The beer is fermented
and matured before all the alcohol is then removed through a gentle process specifically designed to remove the alcohol from the beer whilst retaining the flavour resulting in those refreshing fruity notes and a soft malty finish that have become synonymous with the Cisk brand.
Cisk 0.0 is available nationwide in 25cl returnable glass bottle as well as 33cl cans.
The award-winning Cisk range of beers includes Cisk Lager, Cisk Export Premium Lager, Cisk Excel Low Carbohydrate Lager, Cisk Strong Premium Lager, the Cisk Chill Lager Beer range in Lemon, Berry and Ginger & Lime flavours, and Cisk Pilsner. All Cisk beers are brewed to the highest standards at the Farsons Brewery using only the choicest raw materials.
For more information visit www.cisk.com or follow Cisk on Facebook: www.facebook.com/cisk and Instagram:
www.instagram.com/cisk.