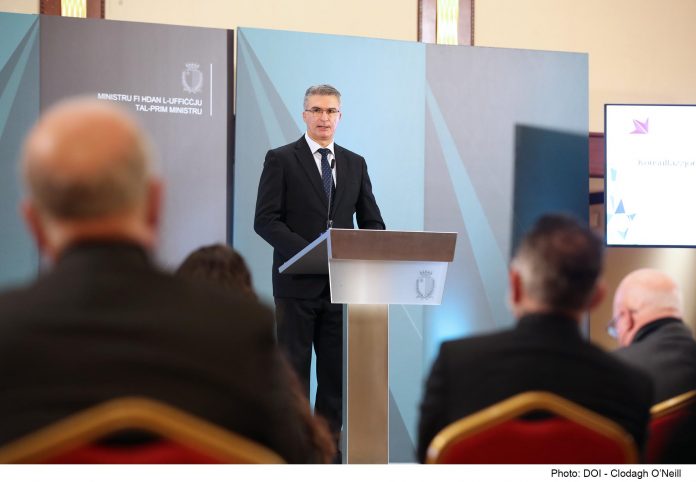 Minister within the Office of the Prime Minister Carmelo Abela addressed a conference organised by his Ministry and the Public Broadcasting Services on the quality of public broadcasting.
The conference was held against the backdrop of the 30th anniversary since the entry into force of the law which made media pluralism possible in Malta, bringing together dozens of stakeholders in the field of broadcasting and media production during which various points and issues were raised with the aim of maintaining the quality of public broadcasting.
During the conference the participants had the opportunity to participate in one of four workshops that dealt with different themes.
In an address at the beginning of the conference Minister Carmelo Abela said that this year the Public Broadcasting Services is embarking on a process of strengthening in full consultation with all employees and stakeholders through which the quality of the product based on professionalism and efficiency must be ensured. He mentioned that PBS should be the showcase of the past, the present, and the future of this country.
Among the improvements that need to be achieved, Minister Abela cited an example from the Programme Statement of Intent and stated how this is being renewed and issued following a wider consultation process including this conference.
He also spoke about the need for the content of programmes on national channels to not only serve as entertainment and information but also as a platform for media companies to continue to grow and to produce innovative content that meets the obligations of the Public Service Obligation. This is also being assisted through the allocation of funds to national broadcasting, amounting to around €30 million over five years.
The Minister also mentioned the potential to create content with international appeal both for the foreigners living amongst us, for the Maltese diaspora and also in view of commercial opportunities on other audio-visual platforms, as well as ways of better integrating audio-visual work on the internet, in the light of the latest trends in the way people access audio-visual content.
He concluded by reaffirming his belief in this industry and the contribution of all those involved and reassured that the Government will continue to provide a platform with which they can succeed. The Minister mentioned that for the first time there is a dedicated line item in the Budget titled 'Television Production and Content Fund of €800,000 dedicated towards improving the quality.
Public Broadcasting Services chairperson Professor Carmen Sammut spoke about the importance of public broadcasting in ensuring a healthy democracy.
The conference was also addressed via a recorded message by Mr. Noel Curran, Director General of the European Broadcasting Union.