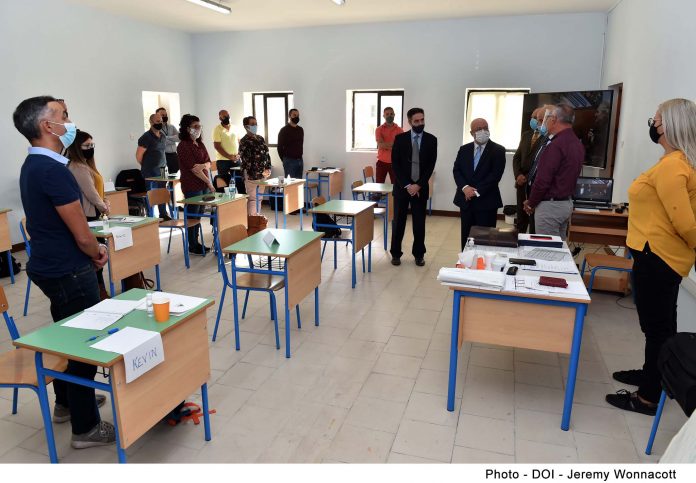 Principal Permanent Secretary Mr Mario Cutajar visited the Academy for Disciplined Forces at Ta' Kandja to witness how investments made are being used to impart high-quality training for the Police and other disciplined forces.
Mr Cutajar was welcomed by Academy Commander Mr Joseph Cachia, together with Board members and staff.
In his message, Mr Cutajar stressed that it was important for the Academy to collaborate closely with the Institute for Public Services to deliver a united message and, in a small country like ours, it is fundamental that resources are used properly and strategically.
He said that Government demonstrated how much it valued the work of disciplined bodies by investing substantially in their preparation and equipment.  Equally, he reiterated that the country appreciated and recognised the work of everyone who is part of the disciplined forces by giving them the right to join unions and improve working conditions. This has happened with the police, is currently being done with the Civil Protection Department, and will also be extended to the Armed Forces of Malta.
Mr Cutajar expressed his satisfaction at his Office having been at the forefront of helping to deliver these sectoral agreements.
During his visit, Mr Cutajar observed practical police training, academic training for border guards, and first-aid classes. Moreover, he took the opportunity to try out a simulator being used in lessons about domestic violence.
The Principal Permanent Secretary also visited a new building being constructed, which is to be used as accommodation should the need arise.
This year, the Academy has offered training to about 1,000 members of disciplined forces. Through the Budget for 2021, the Academy is being supported with an allocation of almost half a million euro for projects and initiatives.
All this forms part of the Public Service's ethos of offering its multitude of services to the citizen anywhere, and at any time.